World Class
Tuesday 28th May 2019
Geoff Pike shares his experience at the ITU World Championships:
"To say this event was on my mind for a while is something of an understatement! To my immense
surprise I qualified in September 2017 at the ETU European championships in Almere
(https://brightonphoenix.org.uk/news/540/going-long/) for the world championships…me! I still
have to pinch myself but If I can do it anyone can…honestly!
So, what to say about this event…it went kind of well, was an amazing experience and I learnt a lot,
and am still learning, as I try and recover from it!
Since I first ventured into the world of endurance running and triathlon in my late 40s I have been
pretty lucky with injury and illness…nothing more than a couple of minor achilles issues, and a
shoulder injury playing cricket has been the extent of my problems…until the last 18 months, that is!
First, 3 months prior to the event in 2018 I came off my bike and broke my right elbow and had to
withdraw. I then had to have the metalwork removed just 4 months prior to the 2019 event (which I
qualified for as it was still within the 18-month window since my 2017 race). Then a month prior to
this event I got a chest infection and couldn't train in the run-up.
I only just made it, two nights prior to the event, as I had a sleepless night still coughing I decided to
withdraw having convinced myself that there would be no loss of face, and I shouldn't take any risks!
But excitement took over, and I decided that this opportunity was unlikely to come round again so I
should just turn up, crack on, and enjoy it best I could!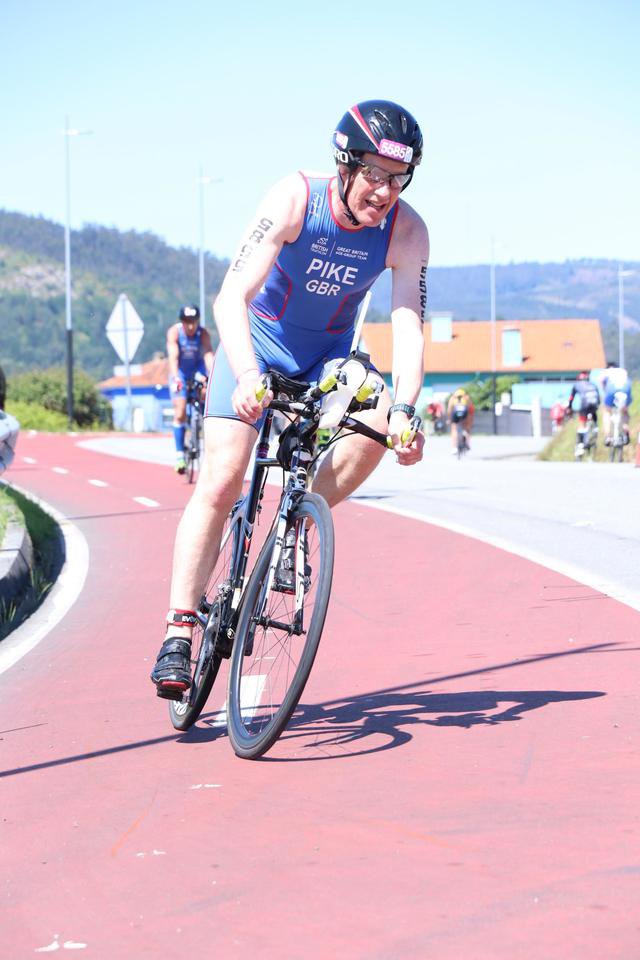 The shortened swim 1.5k, 750m up river, 750m down was hard…I timed it 25 mins up, 10 mins down, felt ok (20th out of 54 55-59 year olds). Took my usual eternity in T1 to make sure I was as prepared as possible for the tough bike leg…how there were 15 guys slower than me I'll never know!
The bike leg (always my weakest discipline) was an even longer slog than usual. The course was 3 loops of approx. 38k with about 600m elevation in each loop, long 5-10% climbs, with several dead turns followed by long, fast descents, and finally a winding section through the city.
The third loop I found especially tough as my lack of long bike training took its toll (33 rd /54). Normally towards the
end of the bike leg I am looking forward to the run but here I was more concerned about my prospects of finishing than usual.
T2 went ok (nice to have volunteers to pass your bike to) and I set off on the run not feeling great (4 loops of 7.5k fairly flat but with one pokey hill). If I have a strength in these long distance events it is an ability to keep running when much of your body is desperately pleading for you to stop. I managed this partly due to the fantastic support (vamos, ánimo, ánimo and quite a few 'don't tell him Pike' shout outs!).
On the final loop, I decided to engage more with the crowd and thank them for the support but their response was so supportive that I fully learnt the meaning of feeling choked – I literally couldn't breathe as my chest welled up!
Then the stadium finish welcome, and the overwhelming relief in completing probably the hardest race I've done, led to me feeling like my heart was going to burst out of my chest, and being descended upon by two medics on the finish line (2.45, 17th /54 and 23 rd overall in 7.44.49)
Overall, I was happy with how it went given the less than ideal preparation but with a niggling feeling of what might have been…
I learnt from this that your performance on the day when you haven't trained at all for the preceding month is not too badly affected, but you pay for it later! I have been bit of a wreck ever since the race. I thought a week of walking on the Camino de Santiago (gorgeous – highly recommend as recovery medicine!) afterwards would see me right, but no. And most attempts at training since returning have been a struggle.
Recovery is so important and I pay far too little attention to it, both in terms of my normal training and especially after a hard effort – training or racing. This probably has something to do with why I was ill prior to the event. When I broke my arm it took me a while to accept that I wasn't going to race 3 months after it…it seems ridiculous now but such is the blinkered attitude you can develop when training for these things! It's easier for me to say than do, but make sure you give yourself time for recovery…during training and especially after racing.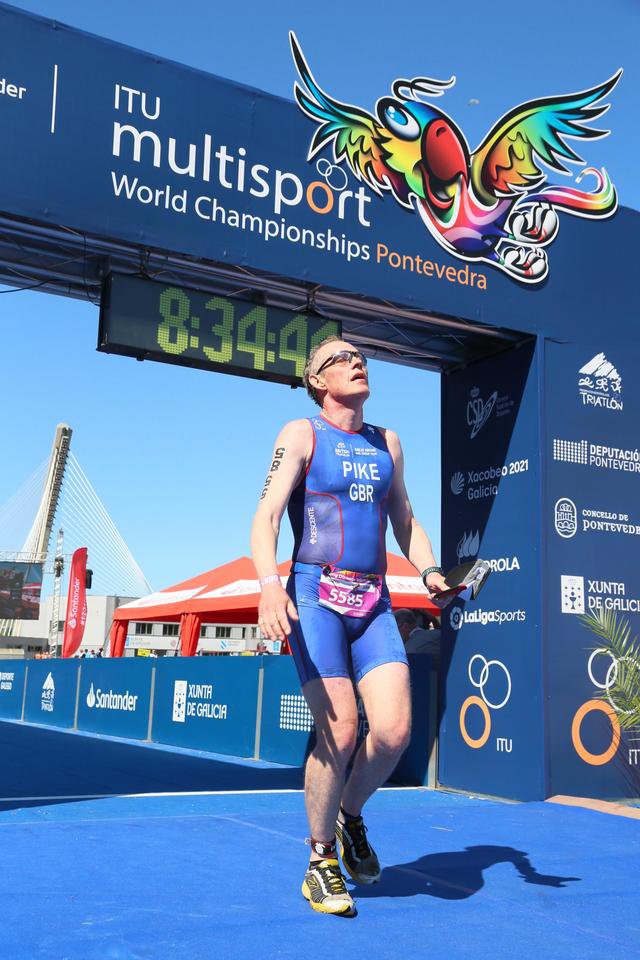 Although training for long distance triathlon can often be a solitary activity a lot of people have been good training buddies and/or helped me at various points in my preparation for this event…
Eogan Mckenna and his tireless support, encouragement and training company. Jon Pike, Liz Halliday, Marianne Clark and other coaches, both at Phoenix and elsewhere
Various Phoenix training sessions, Tom Ulliot's running group and the dog running gang
Hovelo and the Phoenix Sunday bike group, on the rare occasions when I could keep up!
The many awesome middle-aged plus athletes at Phoenix and elsewhere in Brighton who are constantly providing me with inspiring examples of what can be achieved with our ageing bodies!
The excellent NHS staff who fixed my arm so well, including Phoenix's Lizzie Miles
Thanks too to Alex Garrod and the Price family for a seamless co-ordination of our bike travel arrangements.
Lastly, Jane, family and friends who tolerate, and even encourage, my obsession with this time-consuming 'hobby'…
Thanks everyone..x"