Lukas Nerurkar signs for EF-Education Easypost World Tour team
Tuesday 19th September 2023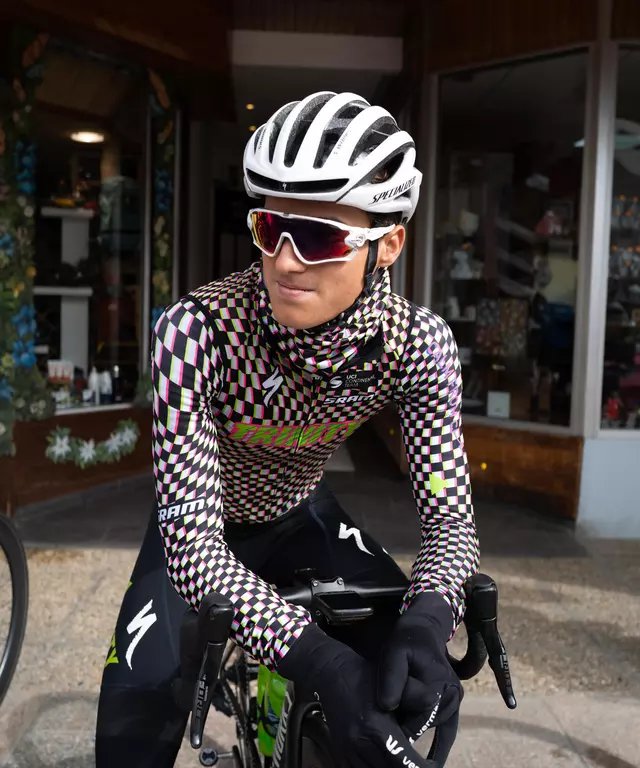 Lukas steps up to World Tour
Lukas Nerurkar, former junior athlete with Phoenix and brother of Phoenix elite athlete Almi Nerurkar, is the next rookie who will make his WorldTour start next season with EF Education-EasyPost.
The 19-year-old British talent has already won stages of the Giro Next Gen and Orlens Nations GrandPrix and finished sixth on GC at Spain's O Gran Camiño. That one was against the pros. Lukas will join them next year.
Racing runs in his genes. Bike racing was never the most straightforward choice for Lukas though. He grew up in Addis Ababa, Ethiopia, where his dad – Olympic marathon and 10,000-meter runner Richard Nerurkar – moved their family after he had hung up his racing flats. He'd always trained in Africa and loved the atmosphere. Lukas's mom Gail was a runner too. His sister Almi was soon bounding in their footsteps. She became a runner as well. But as soon as Lukas started riding bikes, he knew that cycling was the sport for him. When he was a kid, he and his dad would escape Addis Ababa's clogged streets and ride up into the hills above the city.
"Some friends came over from the UK and brought some cycling kit over for me," Lukas says, laughing when he remembers his first rides with his dad.
"I was in a jersey and bib shorts that were far too big for me, but just loved wearing them and riding. My sister did running. In Ethiopia, it is unusual to do cycling. Almost everyone takes up running instead, but on the bike, I could just go a bit farther and faster."
He has been doing that ever since. When he was seven, Lukas's family moved back to England and settled in Brighton, where Lukas started racing with the Preston Park Cycling Club. He stayed with this local team all the way through youth categories. By the time he was 16, he was ready to step up. He joined VC Londres in London and soon caught the eye of the racers in the club, who introduced him to Trinity, a British Continental team. There his talent blossomed. Over the past two seasons, in races all over Europe, Lukas has made a name for himself on the under-23 circuit. Now, he is ready for the WorldTour. He is confident that he has what it takes to compete with the best. O Gran Camiño proved that. But Lukas knows that he still has a lot to learn.
"I have already done a few pro races with Trinity, but it is different when you are racing for a WorldTour team at those races compared to a Continental one," he says.
Lukas has seen his good friend and roommate Ben Healy make that transition over the past couple of seasons and hopes to match his success. At 19, Lukas is still discovering what kind of rider he is going to be, though his wins at the Giro Next Gen and Orlen Nations Grand Prix have certainly shown him a way to head.
"I think I am a punchy climber," Lukas says. "At the moment, that is the way that I am going. I climb quite well and normally, at the end of hard days, I will still have a good sprint to win from a reduced group."
EF Education-EasyPost CEO Jonathan Vaughters has a similar sense of Lukas's strengths. He is very optimistic about the Brit's future and the role that he is going to play in our team.
"Lucas has obviously inherited that incredible aerobic capacity from his father," Vaughters says. "He has also proven that he is quite punchy and quick, with a good finish. He is tactically astute, as you saw with his stage wins at the Baby Giro and Orlens Nations Grand Prix. I don't know whether he is going to be a stage racer or a one-day racer. I do know that he can go uphill and knows how to smell a finish line."
Right now, Lukas just wants to get to his first WorldTour startline. In his rookie year, he will try to get better from every race.
"I just want to learn as much as I can," he says. "It will be really good to get experience racing at the highest level. It would be nice to win some races, but I haven't done a whole lot of racing yet and think the next few years will just be about finding out what kind of rider I am and whatever I turn out to be, improving in those areas, so I can really perform in races."
His teammates are ready to help him do just that. Through Ben, Lukas has already made a number of friends on our team. He can't wait to light up races with them next year.
"The way that the team races really appeals to me too," Lukas says. "I like the aggressive style of racing and just the mix of riders."