The history of Phoenix miling
Monday 18th September 2023
Following an incredible 10 days in September where George Mills ran a 3:49 pb winning in Germany, came 2nd in the Fifth Avenue mile in New York and finally broke the Phoenix club record with 3rd place at the Diamond League Final Bowerman mile ; Paul Collicutt puts it all into historical context
Brighton Phoenix was founded in 1981. The club started with Steve Ovett already in place as the reigning World Record holder for the Mile with 3:48.8. That year however was a momentous one for British miling. Seb Coe took the record off Steve with a 3:48.53 clocking in Zurich on 19th August. Steve bounced back in Koblenz on 26th August with another world record ( and the Phoenix Club Record ) of 3:48.40. But this only lasted 2 days as a World Record because Coe ran 3:47.33 in Brussels.

For so many years I thought no one would or could ever take Steve's club records but a few years back Charlie Grice took his 1500m record ( which was also a former World Record ) and last year Archie Davis took Steve's 800m club record ( which in fact was Steve's 2nd best ever 800m but his best as a Phoenix athlete and was set in the Los Angeles Olympic semi final ).

The Mile has always held significance for Uk athletes ever since Roger Bannister became the first man to break the 4 minute barrier. After Steve set his Phoenix record Mark Rowland clocked a 3:52.99 in Rome 1986, a run that convinced him that he would not top reach the very top as a miler. He moved up to 3000m steeplechase and two years later won an Olympic bronze at the chase in 8mins 7seconds that remains the British record 39 years later ! Charlie Grice ran 3:52.64 in Eugene 2016 winning the B race for the Bowerman Mile.

This year George Mills took Steves's 5000m club record ( which had been set when Steve won the Commonwealth games in Edinburgh ). This was it must be noted George's first ever 5000m. Following on from a disappointing Uk champs in which George did not make the UK team for the World Champs he bounced back in style with a 3:30.95 1500m in Zurich which ranks him 3rd on the Phoenix all time list. Then he won a mile in Germany with a world leading time of 3:49.64. Following that came a brilliant 2nd in the 5th Avenue road mile and this weekend he had one of his greatest performances so far in the Diamond League final in Eugene.

Competing in the Bowerman Mile he came 3rd in a new club record time of 3:47.65. That's the bare bones of it but there is so much more. His time ranks him 3rd on the UK all time list, 3rd in the World this year and was set in one of history's greatest ever Mile races. Congratulations and hats off all round to George. He is a Phoenix Flyer to be proud of.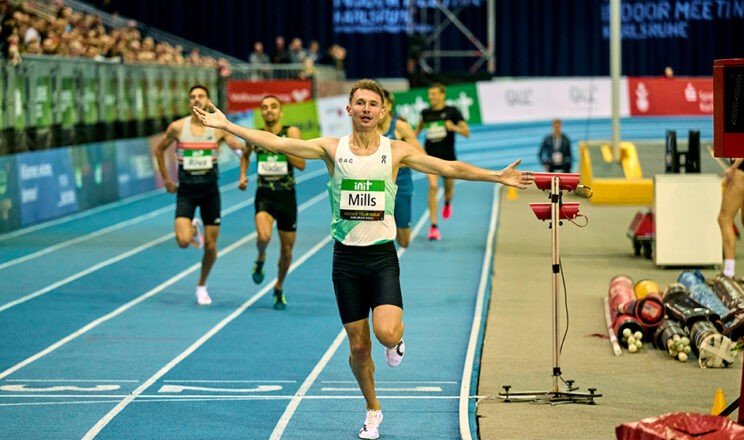 George Mills Phoenix club record !
Mark Rowland's Olympic bronze medal
Steve Ovett's world record