Beth Kidger breaks Phoenix record
Tuesday 11th May 2021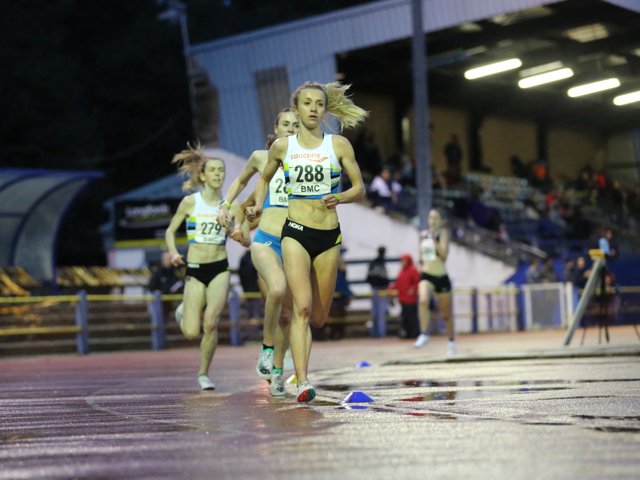 Beth Kidger smashed the Brighton Phoenix women's 5000m women's record at the BMC Grand Prix, chasing down a time of 15:53.60 to finish second at the event in Stretford.
The outstanding achievement took the 27-year-old, coached by brother Joel Kidger, above team-mate Almi Nerurkar in the club history books - though it could be that both athletes continue to exchange PBs over the next few years.
"It feels great to have broken the 5000m record," said Beth.
"Phoenix has always done a lot for me so it's brilliant to make my mark. It feels even better for it to be there alongside Steve Ovett's time for the mens too!"
The race followed up an impressive start to the outdoor track season for Beth, who begun her campaign a week earlier by winning the 3000m at the Worthing Open Meeting. She says it's all down to hard work over the winter, combined with a change in distance focus.
"At the end of last year, Joel and I decided that the main thing that we needed to do in terms of the training was just work on getting stronger.
"Even though I'm naturally more suited to the middle and long distance, I have only really trained like a 1500m runner. Therefore, this year we have decided to bring in more 5k type training with the idea of being able to step up to some longer distances over the coming year.
"This meant reducing my sessions to twice a week but bringing on more mileage and longer threshold sessions too."
Although Beth's made a stunning start to the campaign, she isn't content with settling for her 5000m achievement. She now holds five club records, with the others being in the road 10km as well as the indoor 1500m, 3000m and mile.
Beth's targeting a sub 4:10 over 1500m, and will be targeting the British Athletics Championships over 5000m in Manchester at the end of next month, an event which will double up as Olympic trials. She's also got her sights set on a first multi-sport Games on home soil next year, when the Commonwealth Games come to Birmingham.
"To get to those games would be an amazing goal but it obviously won't be an easy ride! If I could get the qualifying times for the Games, I would be delighted."
Huge congratulations to Beth and Joel, and best of luck to all of our athletes competing in the coming weeks.