Field Day for PHX in Horsham
Monday 03rd June 2019
Spectacular success in the sunshine for Team PHX at the Horsham 10k on Sunday, June 2nd. On an uncomfortably warm day we overcame the challenging hilly course, and the absence of several key runners as a result of the date clash with this year's South Downs Way Relay, to record emphatic victories on the day in both the male and female team competitions.
As usual, the race, run mostly over scenic country lanes, was well-marshalled, organised and friendly, thanks to the efforts of organisers Horsham Joggers. And after the race, the sunshine became friend rather than foe as we enjoyed post-race celebrations on the comfortable grass of Horsham Rugby Club sports field.
Outstanding individual performances came from:
Rachel Gorman – first female finisher by almost 2 minutes in an excellent 38:59, and first SGP-club female finisher by over 5 minutes.
Simon Heath – lost out by just 6 seconds to a Southampton runner in an exciting battle for the overall race winner, but his second place in 33:13 put him over 2 minutes clear of his nearest Sussex challenger.
Paul Whelpton - almost 8 minutes clear in his own V65 age category (and actually first over-50 finisher).
Joe Butler – 6th overall in 36:32, just losing out by a few seconds to Lewes' Chris Gilbert in the battle for first V45 place.
Malcolm Kemp – first V70 finisher by over 3 minutes.
But the most satisfying results came in the team competitions. Race all-comer team awards – based on the best 3 male and female finishers from all clubs in the race – were claimed by our top 3 women finishers - Rachel Gorman, Caz Garrett and Georgia Flowers – and by our top 3 men - Simon Heath, Joe Butler and Paul Whelpton (average age 48!).
There were also excellent runs from the rest of TEAM PHX – Will and Sarah Russell, Val Avella, Gill Checkley, Steve Selby, Lance Bellers, Phil Grabsky, Mike Townley and Andrew Haig – look as though they have earnt us top position on the day in the SGP team competition.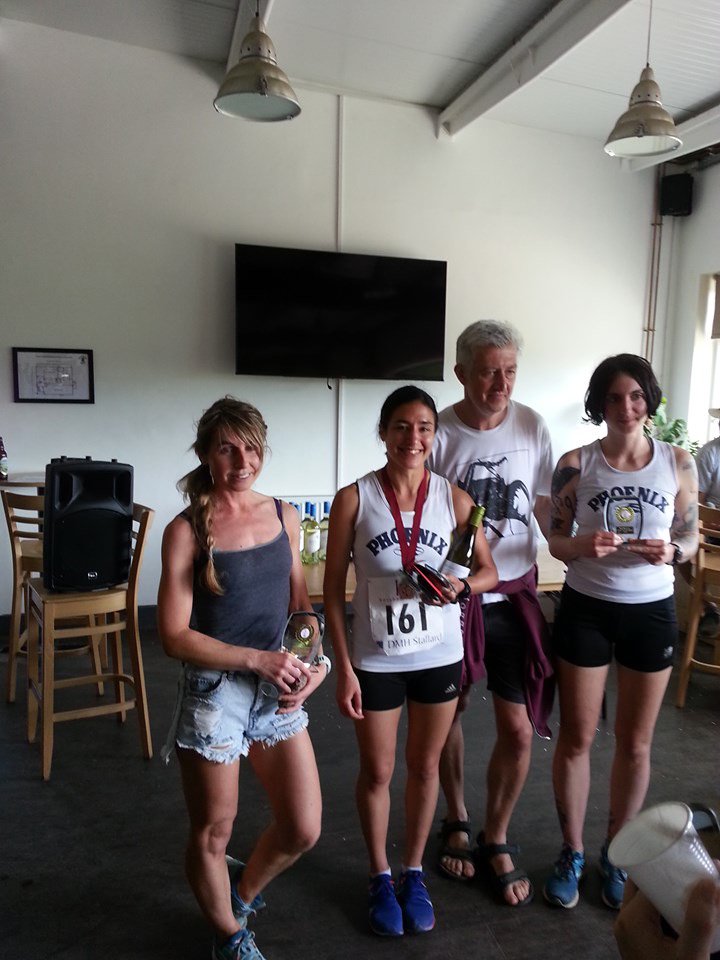 SGP Footnote: the SGP (Sussex Grand Prix) is an inter-club league competition that is based on the results at 12 Sussex races over the whole of 2019. The Horsham 10k was the fourth of these 12 fixtures.
All 12 races are public and open to runners from any club, as well as to runners with no club affiliation, so the SGP results are calculated (with some delay!) after excluding from the official race results all runners other than those from the 21 participating SGP clubs.
So far this year we have been just one or two runners short at most races of the numbers we need to have a realistic chance of winning the overall SGP title.
Any Phoenix member aged over 17 can run for TEAM PHX at any of the 12 races and will help our SGP score in one way or another wherever they finish – see the SGP site SGP Races 2019 for race entry details, and email us to ask to be added to our SGP email list!
Thanks to Paul Whelpton for the Report.