SDW Silver Linings
Monday 03rd June 2019
After the usual team changes, post-marathon injury problems, last minute call-ups and other dilemmas, Phoenix's A team stood on the start line, in the penultimate 8.30am starting group, contemplating the 100 miles and several thousand metres of climbing and descending that was to come in this year's South Downs Way Relay. This is Tom Hooper's account of how the day unfolded.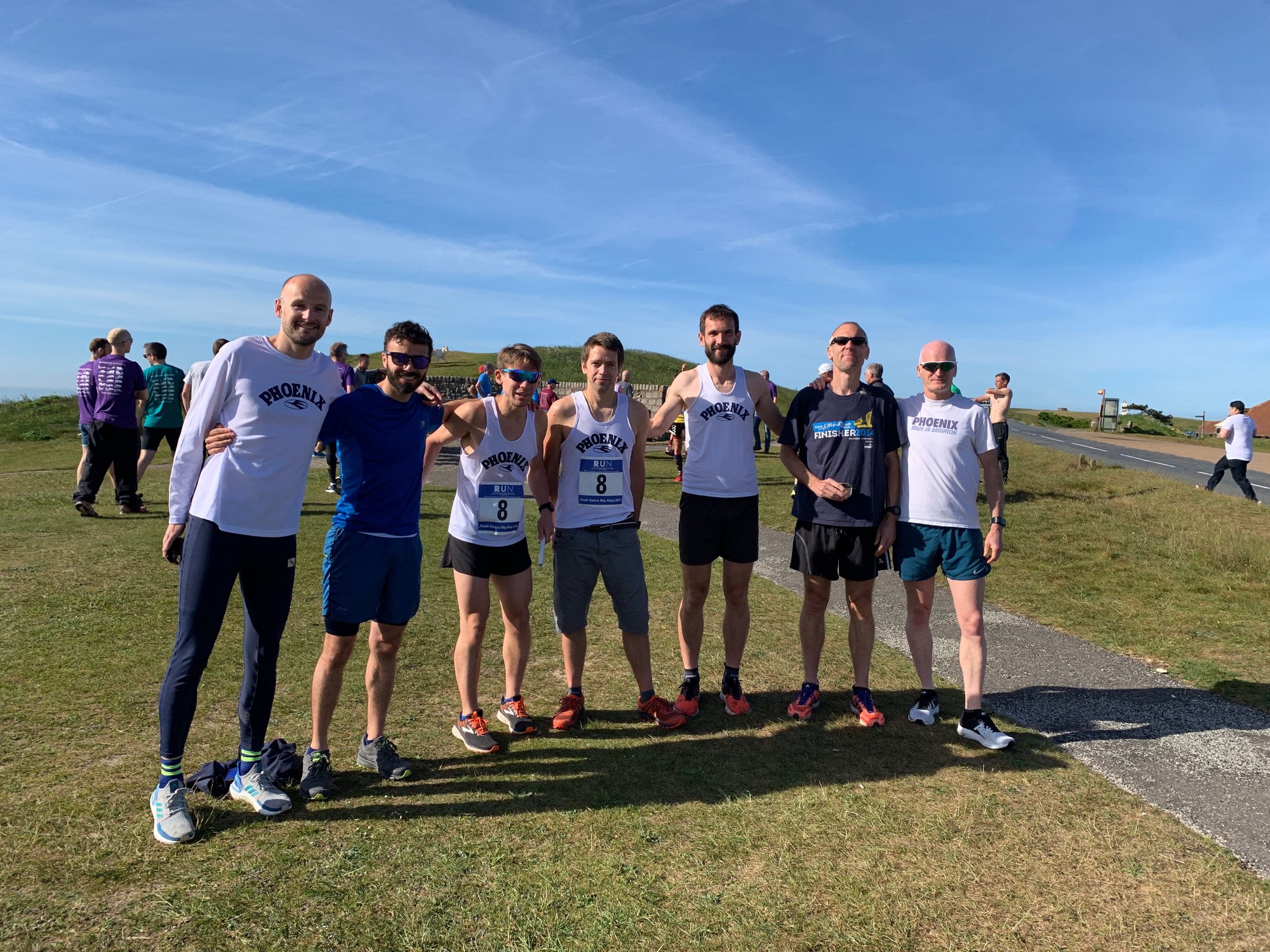 On a bright morning with the team looking to get off to a strong start, Skipper Tom Clewley lead by example, taking on the lively (aka hilly) 1, 7, 13 combination runnning an excellent 43 minute opening leg over the Seven Sisters finishing behind a talented Isle of Wight runner and the strong Ben Gibson from Haywards Heath to hand over the baton (for any newcomers to the event, you literally carry a baton) in 3rd out of our starting group.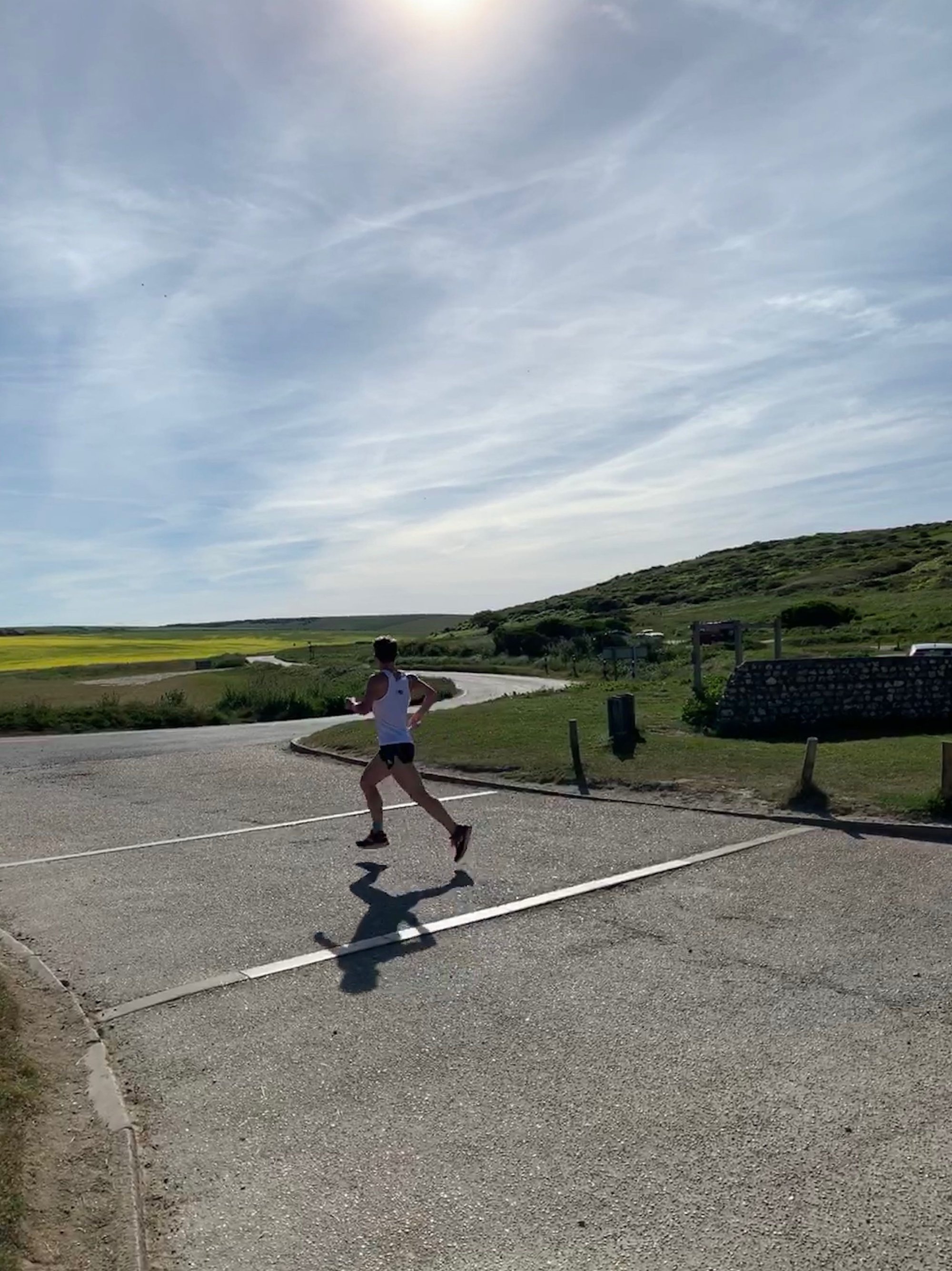 I was on leg 2, hoping to bounce back from a disappointing London marathon and a less-than-encouraging set of practice runs on 2 of my 3 legs. The good news is that I knew the route (this leg is notorious for being easy to get lost) and I had a target in the form of a beetroot-coloured Haywards Heath vest belonging to Rob Watts about 20 seconds ahead of me.
After trading places on the first half we began the long climb up from Alfriston and spotted the previously leading IoW team member running back towards us. They had missed the turn and we were back in first place. I was able to grind up through the rest of the leg and hand-off to Olle Akesson who was not only making his debut in the SDW Relay, this was also his first ever event in the famous Phoenix vest.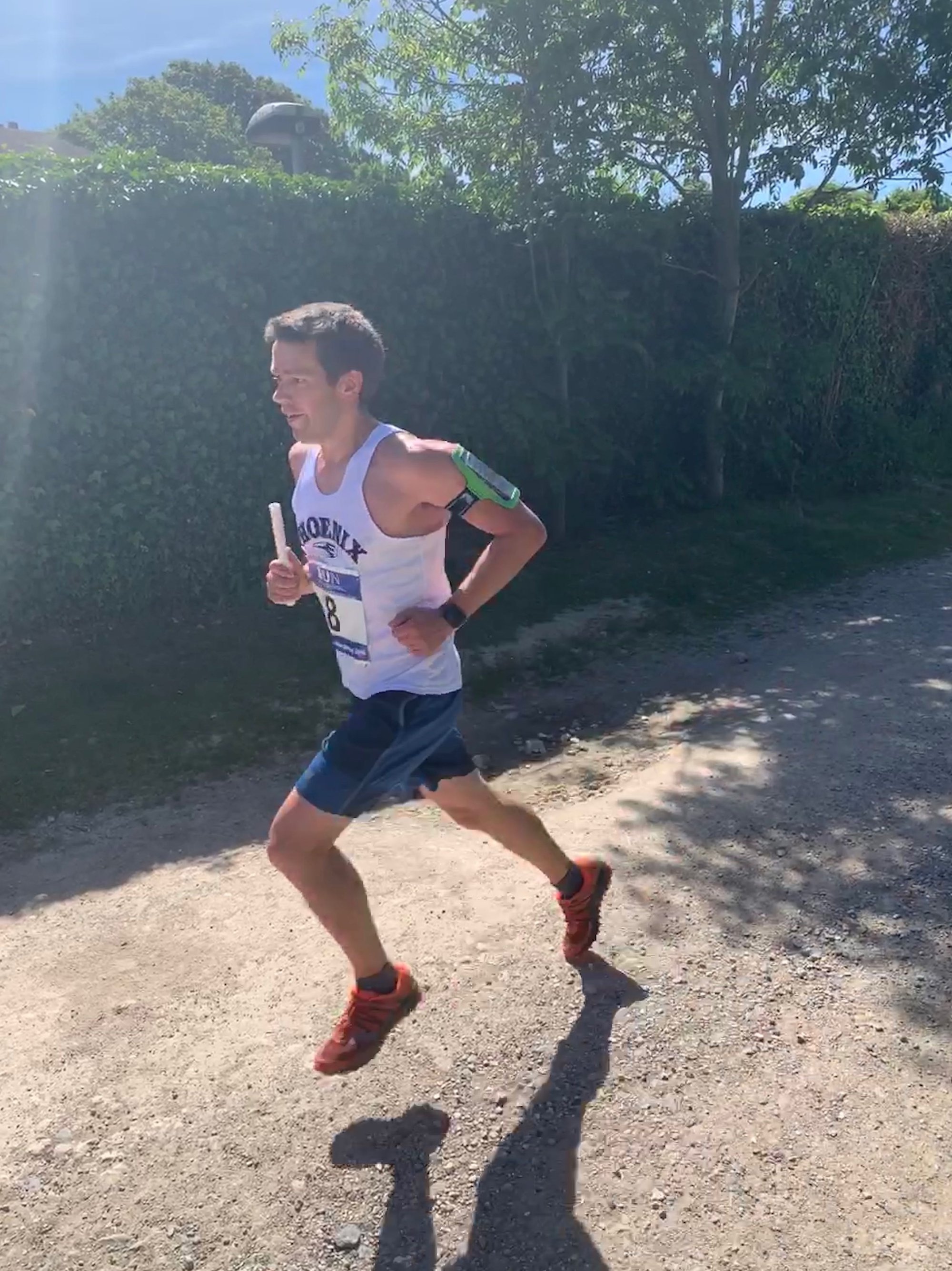 Olle had a license to attack his 3 slightly shorter legs using his speed to maintain a great pace and as he flew down the fast descent of leg 3 to the Youth Hostel near Southease station he let loose Jim Lathbury, in second position of the teams in our group, onto the lengthy leg 4. Tom C and I knew that Jim was a good climber when we discussed legs and he didn't disappoint on his first assignment of the day, running a monstrous pace to pass off to the equally well-bearded Paul Weir back in 1st place of the 8.30am contingent.
To say Paul was a late call-up to the team is an understatement. He had no time to reccy any of his legs, although the first 2 of his 5, 12, 18 combination were ones he did as part of the 2017 team. One other indication of the somewhat unusual build-up to his race was confirmed when, as Hildi explained to the group WhatsApp that Jess Prior was already in bed on the Friday night ahead of an early start, Paul was still on the M25 - driving back from a family holiday in Scotland.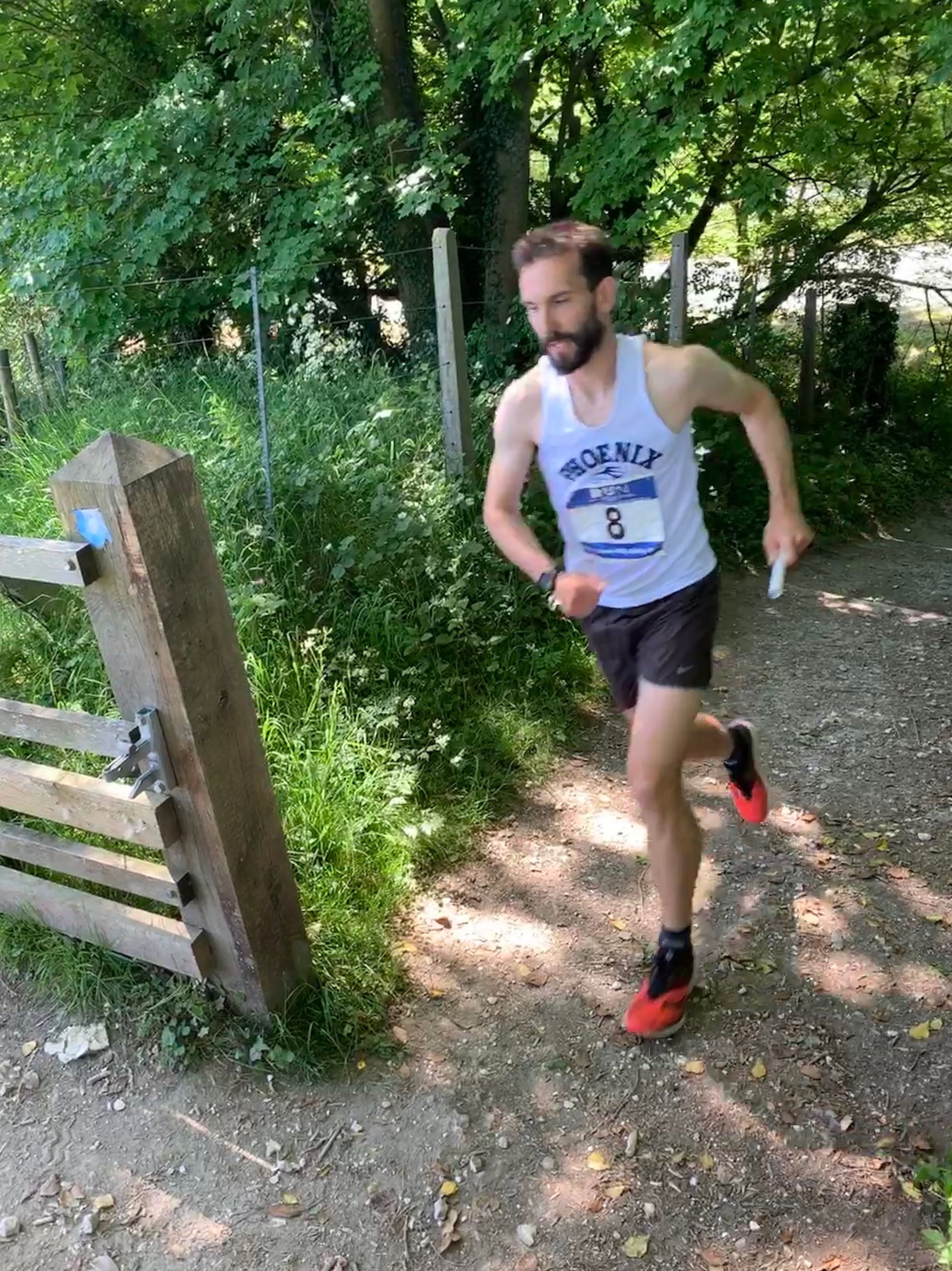 Paul didn't let any of this affect him, working extremely well up the climb to the Phoenix-marshalled Ditchling Beacon changeover point (shout out to the Carters, Andy Haig, Malcolm and Sue's bovine-guiding skills) opening up an even bigger lead over Haywards Heath A from our starting group. From here we didn't look back – only forward. This was especially evident because next-up was Dave Powell, in the form of his life and sporting a pair of black wraparound sunglasses that enticed our driver and all-round hero Steve Atkinson to unleash his full repertoire of Terminator impressions - albeit with a Lancastrian, not Austrian, twang.
Dave completed his first leg comfortably under his predicted time and further consolidated our strong position handing back over to Captain/Dr Clewley to begin the 2nd round of legs. By this point it was extremely warm, with the sun beating down, and although the lack of a breeze was a welcome change from the frequent presence of a strong westerly it was definitely sunburn territory and not ideal for an endurance race.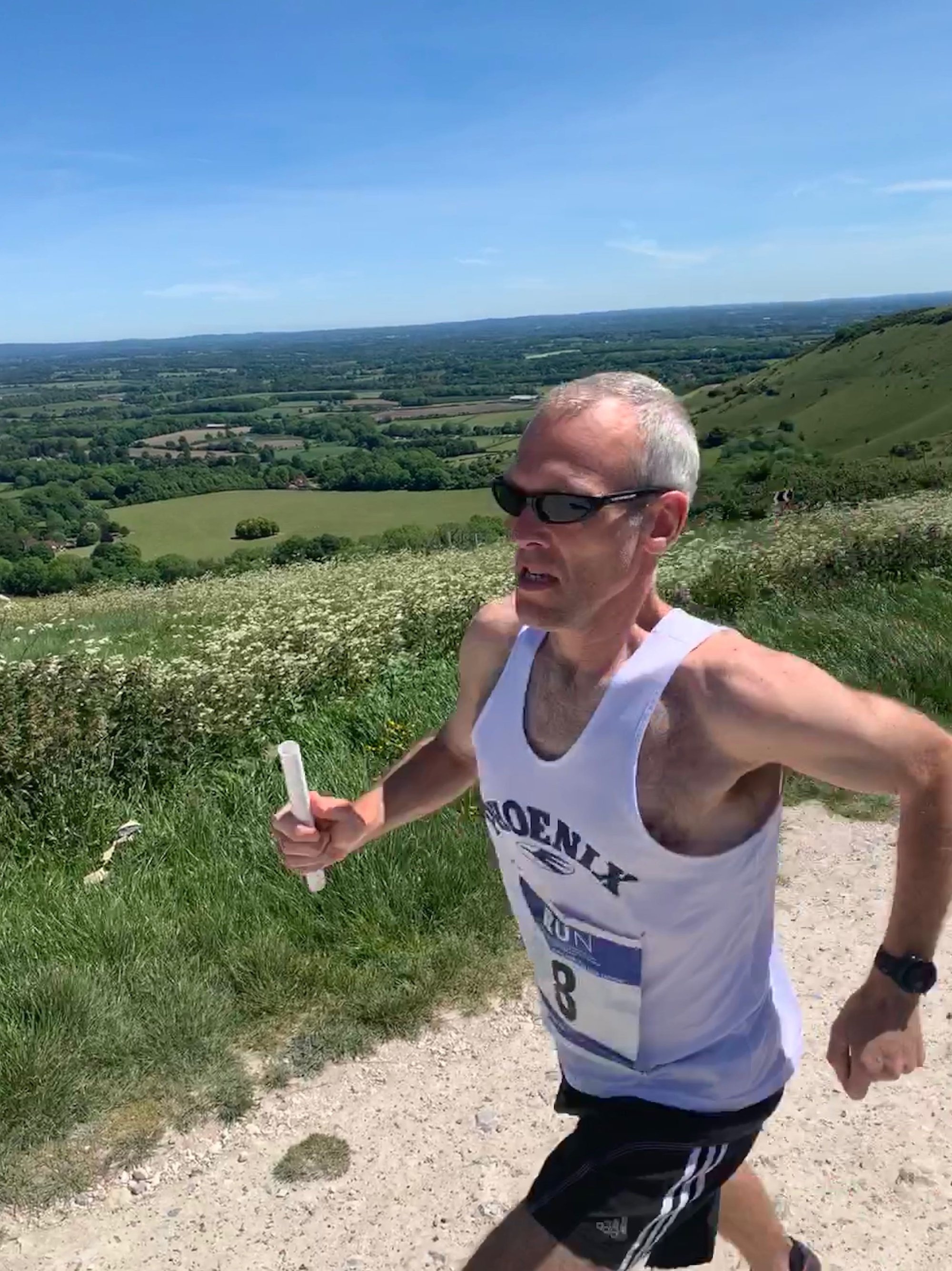 The first, and only, hiccup of the day was actually having to take the back roads from a jammed-up Devil's Dyke to the start of leg 8 near Shoreham and almost running over a dog, that was unburdened from the confines of a lead, which ran out in front of the bus as its 2 owners watched on in startled terror. Fortunately, Steve's background in performance motorsport ensured a disaster was avoided and the team kept pressing on.
The simple thing I can say about the rest of the entire event was that every single member of the team kept performing to an incredibly high level. With the exception of the aforementioned Mr Powell, and with the greatest of respect to everyone involved, this was not a team of superstars but we kept executing the plan. Everyone knew their legs, everyone paced them correctly, the changeovers were smooth, the navigation was on point. We were right at it. I'd even broken out a couple of Mini Baybels.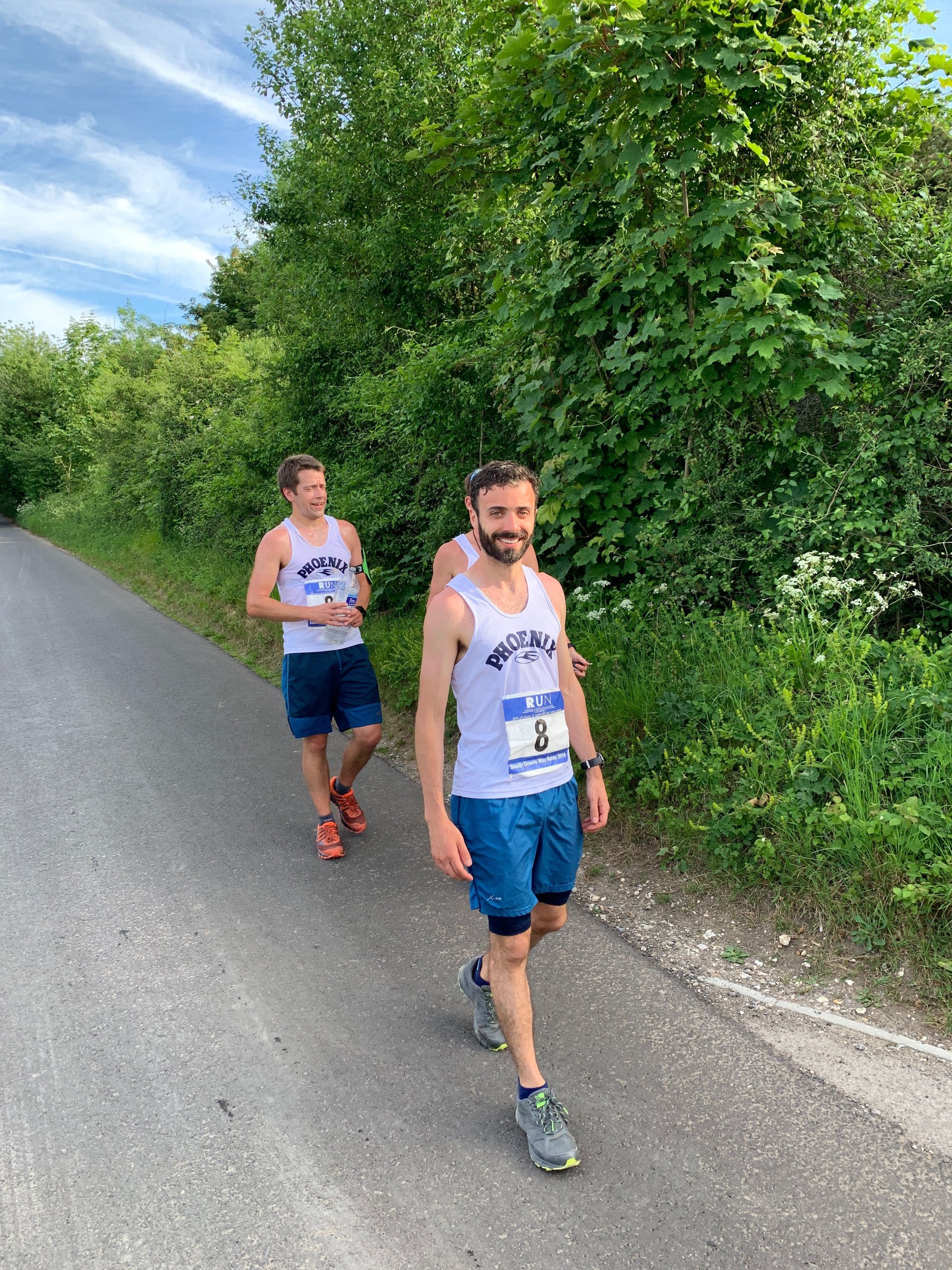 By the time legs 13-16 were banked, Tom C, myself, Jim and Olle were done for the day and we'd overtaken several teams. It was at this point we (well, certainly me, I shouldn't speak for the others) started to contemplate getting on the podium - we needed to finish ahead of one of the 3 teams who set off at 9am: Stubbington Green, Chichester or Arena. One of the most notoriously tough legs is 17 – comfortably the longest of the day at over 8 miles and fraught with navigational and pacing pitfalls. Dave proceeded to vanquish any of those concerns, clocking an outrageous 55:13 which we think is a new club vets record for the leg previously held by an athlete of the calibre of Dave Carter.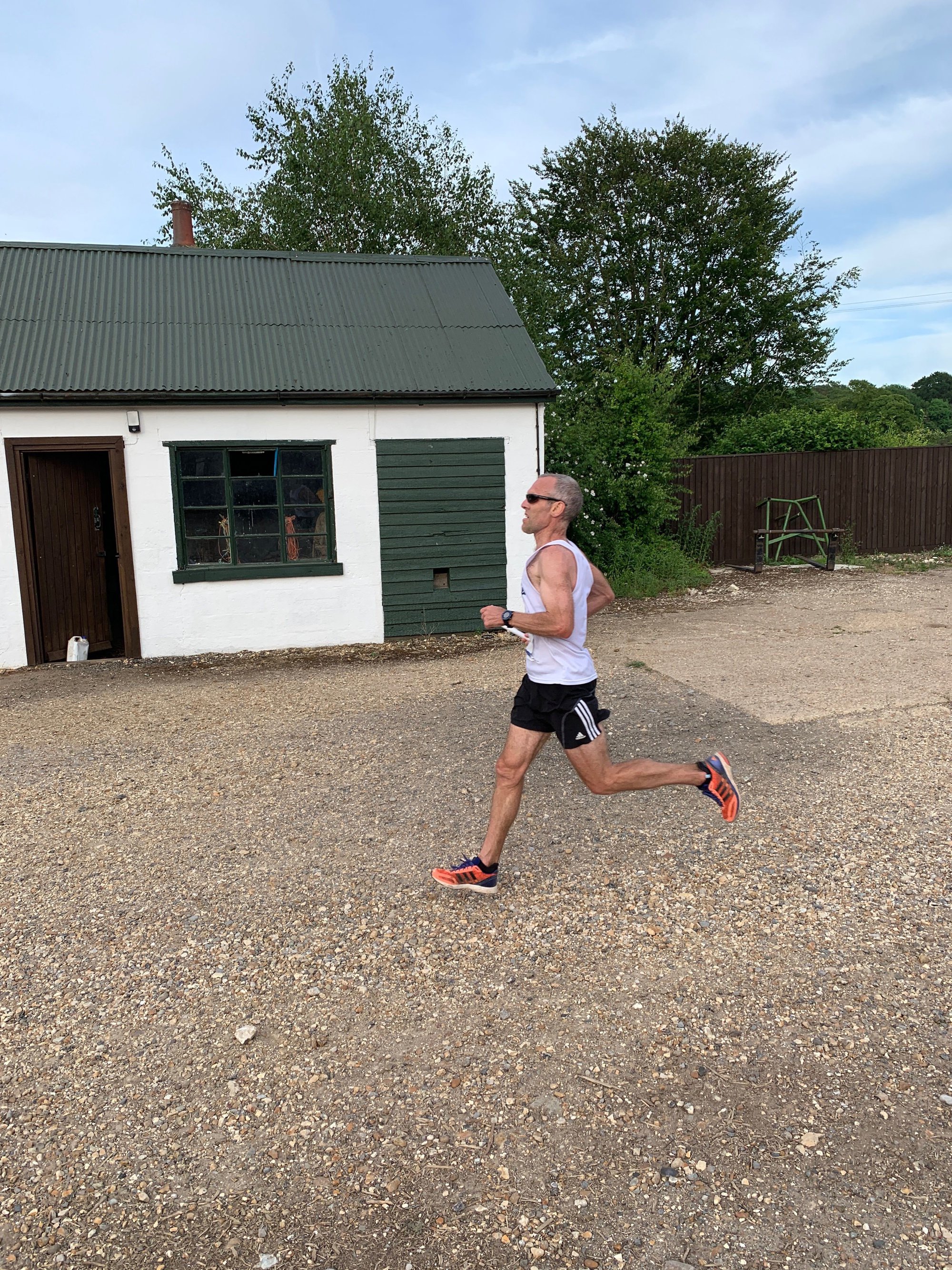 It was now up to Paul, phone in hand as he'd never run the final leg in his life, to finish the job. He did just that taking the right turn, bursting through a hedge and entering the sports field in Winchester where the finishing line was waiting. We had completed the course in 11 hours 3 minutes and 48 seconds. Reigning champs Stubbington Green were comfortable winners, 10 minutes clear of us, but we pipped a very talented Arena A team by 53 seconds to confirm a silver medal.
In conclusion, it was an unbelievable day and a brilliant performance from every single member of the group from the driver to the six runners. Thanks to Tom C for being a terrific captain and leading by example in taking on 3 huge legs, for Dave P and Paul for jumping into the team at relatively (or extremely) late notice and showing their undoubted class, and to Jim and Olle for running out of their skin on the day. Finally thanks to Liz Halliday and all the other volunteers and participants for both the marshalling and the performance of the other 2 Phoenix teams. This day always confirms what an excellent club we are and this edition was no exception.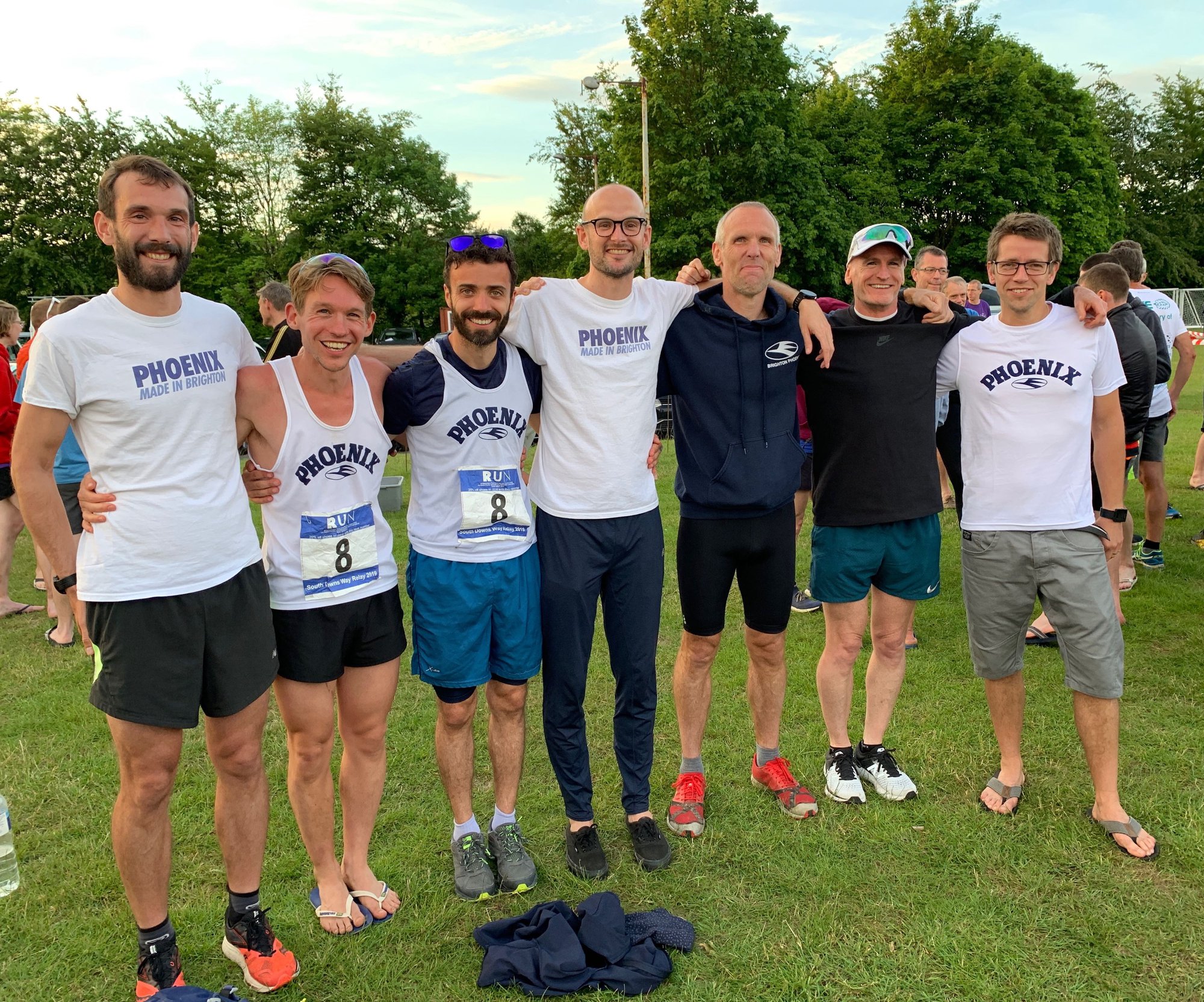 That's probably enough from me and well done if you made it this far. I hope this might entice more people to take on the event next year - I hear a Vets team record might be on the cards....