Star-Spotting at Open Meet
Thursday 06th June 2019
Despite the initial rain and mist, and the consequent waterlogged track, there were plenty of sparkling performances at our Open Track Meeting at Withdean Stadium on Wednesday 29th May. As a well-established British Milers Club event, our meeting always attracts high-quality fields and this year was no exception.
Outstanding Phoenix performers included Almi Nerurkar, who improved her 1500m SB time to 4:33.67 – which is nearly 10 seconds inside the senior girls qualifying time for the England Schools Championships. Ben Connolly had an ES target of 4:20 for the Junior Boys 1500m, and got the job done - if only by a whisker - in a time of 4:19.67. Milly Dickinson and Leo Brewer both missed out on ES qualifying times by agonisingly close margins, with Milly clocking 2:16.32 in the 800m - just outside the intermediate girls' target of 2:16, and Leo, aiming for the senior boys 3000m target of 8:36, finishing in 8:36.24.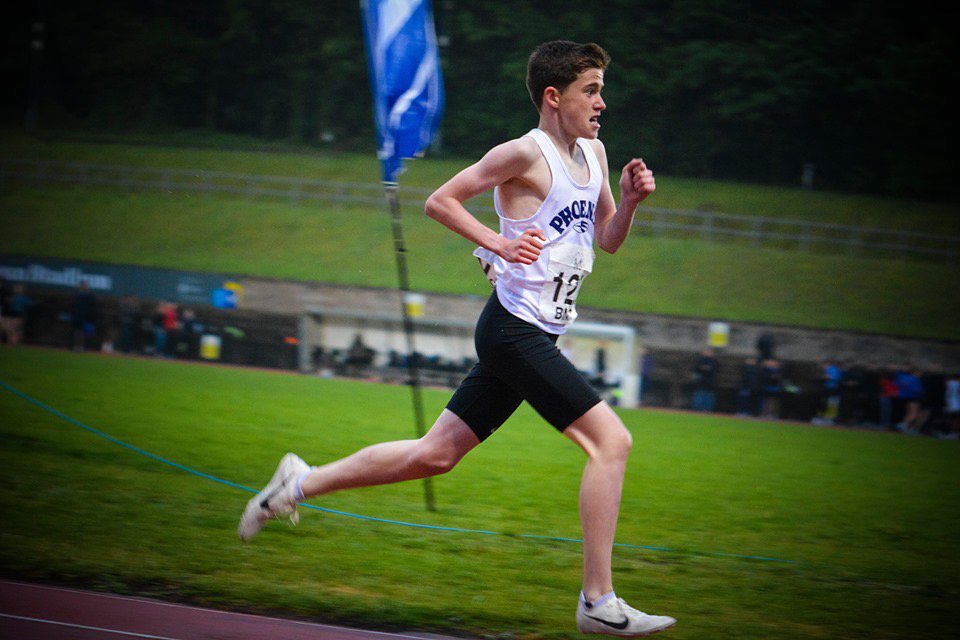 In the Open Mile race Tom Clewley (warming up for the 100 miles of South Downs Way awaiting him 3 days later) narrowly overcame a gutsy front-running challenge from more youthful PHX rival Eddie Harrison to claim victory in 5:02.35.
In a very high-quality Men's 3000m Aldershot & Farnham's Dane Blomquist claimed victory, knocking a massive 8 seconds off his own PB with 8:12.08. PHX's Max Pickard, building back up after a stop-start winter, posted 8:34.87 for 6th place, whilst U20 Leo Brewer's 8:36.24 earnt him an impressive 8th place in the 25-strong field.
Tonbridge's Nicole Taylor won the Women's 3000m with some powerful front-running, coming home in 9:20.3. The highlight of the Mixed 3000m was the intriguing contest between Tony Rickwood and son Woody, with dad finishing in 7th place in 10:26.4 30 seconds or so clear of Woody. Next year's rematch eagerly awaited!
Naturally, the most exciting race of the night had to be the Mens BMC 800m A race, which turned out remarkably similar to last year's race. PHX's Spencer Thomas was just edged out by fellow-international Elliot Giles, who claimed victory in 1:47.87, once again failing by the narrowest of margins to beat Chris Carter's 50-year old track record. (Incidentally a few days later in Belgium Spencer had better luck, winning in a big new PB of 1:47.10.)
In the 800m C race, Ollie Johnson (later on pacing duties with the tireless Dan Eeles) was just pipped on the line in an exciting 3-way finish, and other PHX 800m victors on the night were Imogen Read (Girls U13 B-race), Lewis Wilby (Boys Open U11), Marley Bigg (BMC H race) and Jacob Tupper (BMC L race).
Big thanks to Meeting Director Paul Collicutt and the many volunteers who made the event such a success.
Full Results: Phoenix BMC Open Results
Thanks to Paul Whelpton for the report.