Phoenix Men Win SDW Relay
Friday 30th July 2021
After a long wait, and a false-start or two, the 2021 South Downs Way Relay was held on Saturday the 24th of July and Phoenix were able to field 3 teams. This is the account of the Men's team, competing in the A race.
Going into the race we knew we had a very strong team, and whilst the astonishing club record of 10 hours and 13 minutes (it's hard to emphasise just how fast that is) from 2013 was unlikely to be challenged, we felt bullish we could give serial victors Stubbington Green a real run for their money.
Tom Clewley, unfortunately, couldn't make the new race date but that opened the door for, recent club signing from Worthing Harriers, Jamie Corbett to take a berth alongside training partner Milan Watson - both fresh off a 71-minute half-marathon PB not so long ago.
With Alex Cruttenden in the shape of his life, and the trio of Paul Weir, Tom Hooper and Seb Béhuret all having breakthroughs over 5km earlier in the year the team looked good on paper. Add in the enthusiastic presence of chairman Mike Townley behind the wheel of a luxurious hire vehicle, complete with USB charging points, and the septet was complete.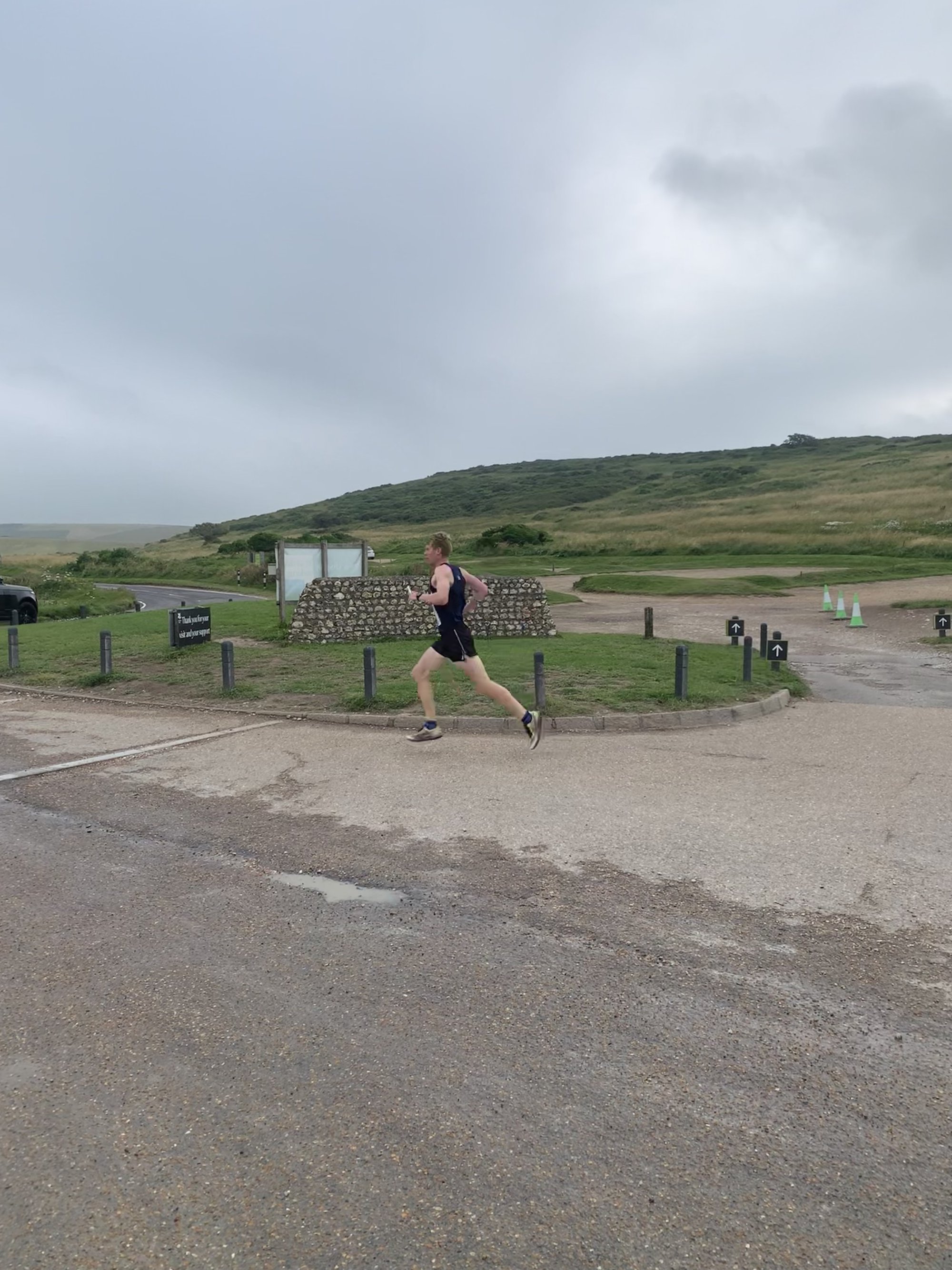 Setting off in the last slot at 8.30am, alongside the aforementioned Stubbington Green and Arena 80, we knew that staying in touch with Stubbington's leading runner would be a real confidence booster. Normally you see him flying down the steps at the mid-leg check-in at Birling Gap with real distance on his rivals, but this time around Alex and Arena's Richard Clayton were in contention.
At the handover at Exceat, Al had kept the gap to a very manageable distance and handed over in 2nd place - an excellent run over the punishing Seven Sisters and a huge confidence booster to the team.
Tom was on Leg 2 and ran a very solid leg on a route that features a bit of everything: steep grassy climbs, 1 wall, 1 style, 2 sets of long steps, a farmer's field, 2 alleyways, some village running, some riverbank running and a 2 mile drag to Bo Beap on the chalk to finish.
Although he didn't make too much headway on the flat, he kept the Stubbington runner in sight, and then was able to open up a decent gap on the ascent to handover to relay debutant Seb in 1st place.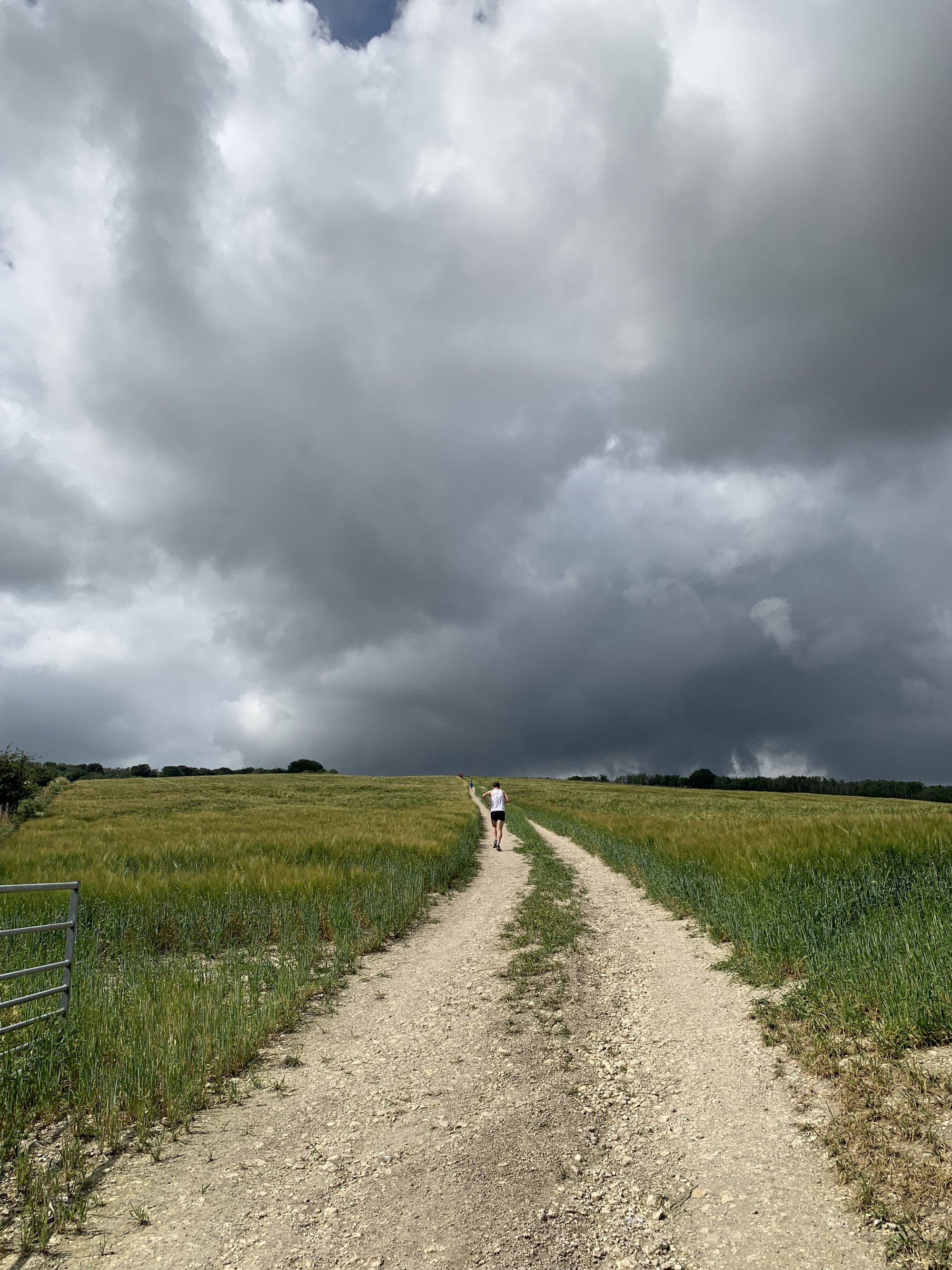 If Seb was understandably a little nervous his strategy to alleviate any jitters was to take off at the start of leg 3 like an absolute rocket. With it being one of the shortest legs and with him blessed with a lot of natural speed, it felt like a really good fit and so it proved as he flew down the final steep climb, drenched in sweat, and handing over to the other first-timer in the team Jamie Corbett.
Leg 4 in contrast to 3, is one of the longest sections of the 100-mile route, and with the excellent endurance of both Jamie and Milan - the engine room of the team - we knew we had a fantastic opportunity to keep building upon our lead.
Jamie cruised through the 7 mile leg as expected and handed over to Milan Watson who a) loves the hills b) is in excellent shape = c) an ideal person to have in your SDW relay squad.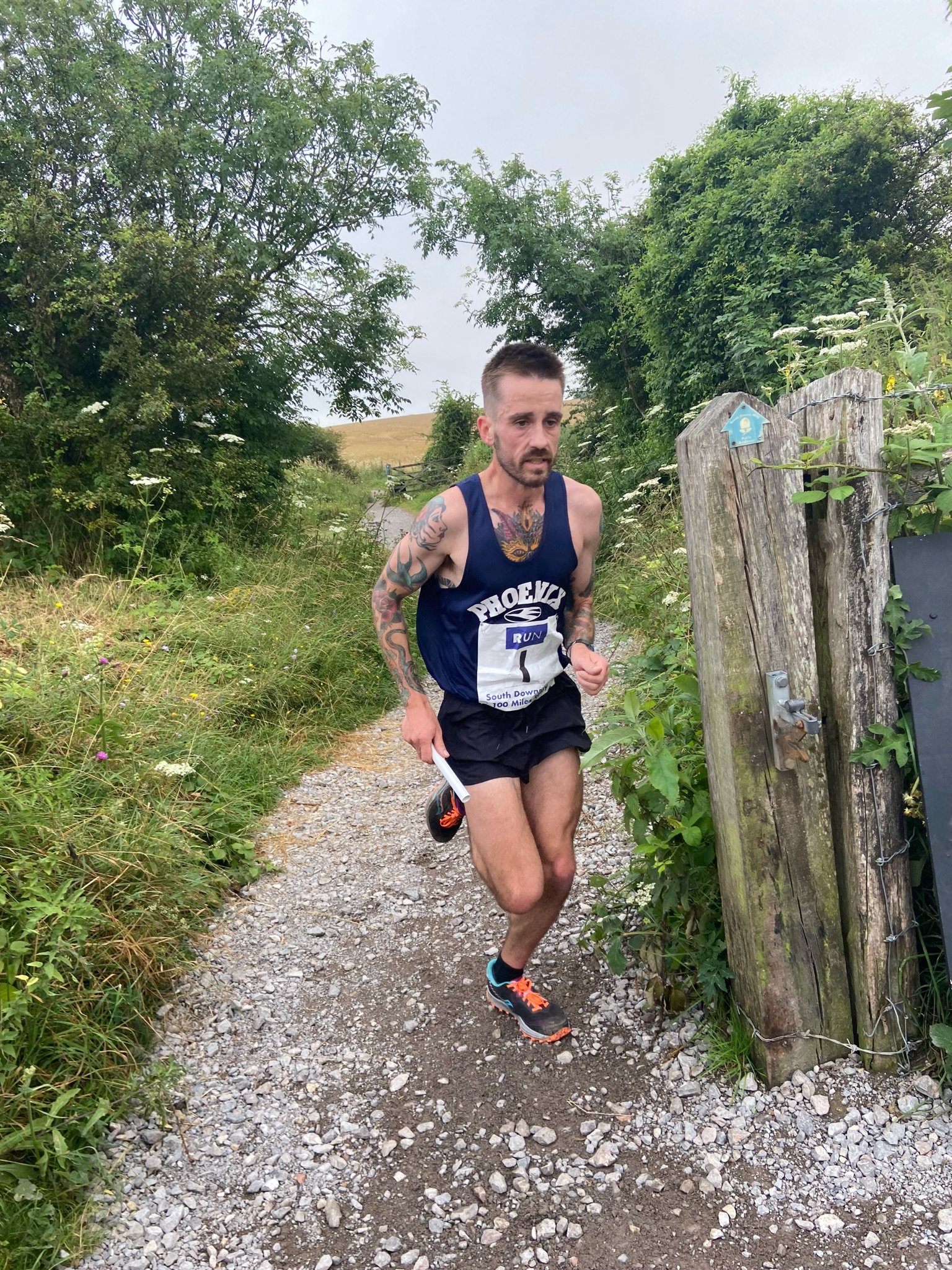 Despite the spectre of the infamous 9 mile 'test' that is leg 17 hanging over him, Milan ran a very committed leg on 5 climbing all the way up to Ditchling Beacon, expertly marshalled by Phoenix, and got our final member of the team Paul Weir into the race. It must be tough waiting the best part of 2 and a half hours to get going, but the former men's captain was now into his running.
After running leg 6 as an out and back to gain selection for the team it was one we were all familiar with but with a tough climb out of Pyecombe up Newtimber hill and then a quad-shredding descent into Saddlescombe Farm it's yet another leg with its share of challenges to rise to.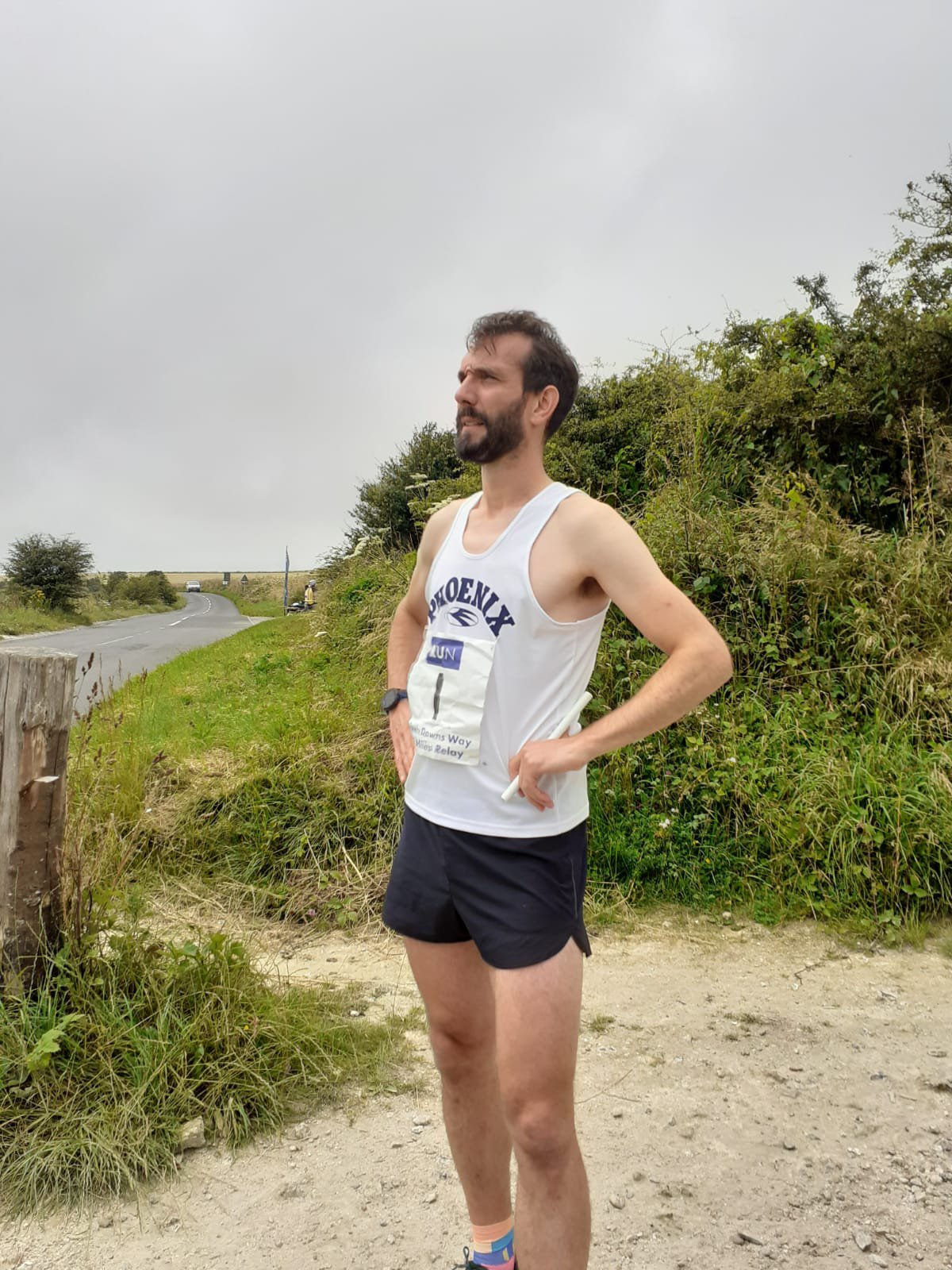 After getting a time check from Liz at the handover point, we were informed we had built up a 9 or 10-minute lead after only 6/18 legs and at that point it was all about keeping things controlled, ensuring no navigation mistakes crept in, and also that we could get all our runners to the changeover points - an underrated aspect of the race.
To help with the latter, Hildi generously gave both Jamie and Milan a lift in her car to the end of legs 9 and 10 respectively buying Mike some peace of mind that he didn't need to emulate the World Rally Championship through the West Sussex countryside. When thanked for her generosity, Hildi's reply was (and I paraphrase) 'It's ok, I'd only be making my kids their breakfast' (at this point it was approximately 1.30pm).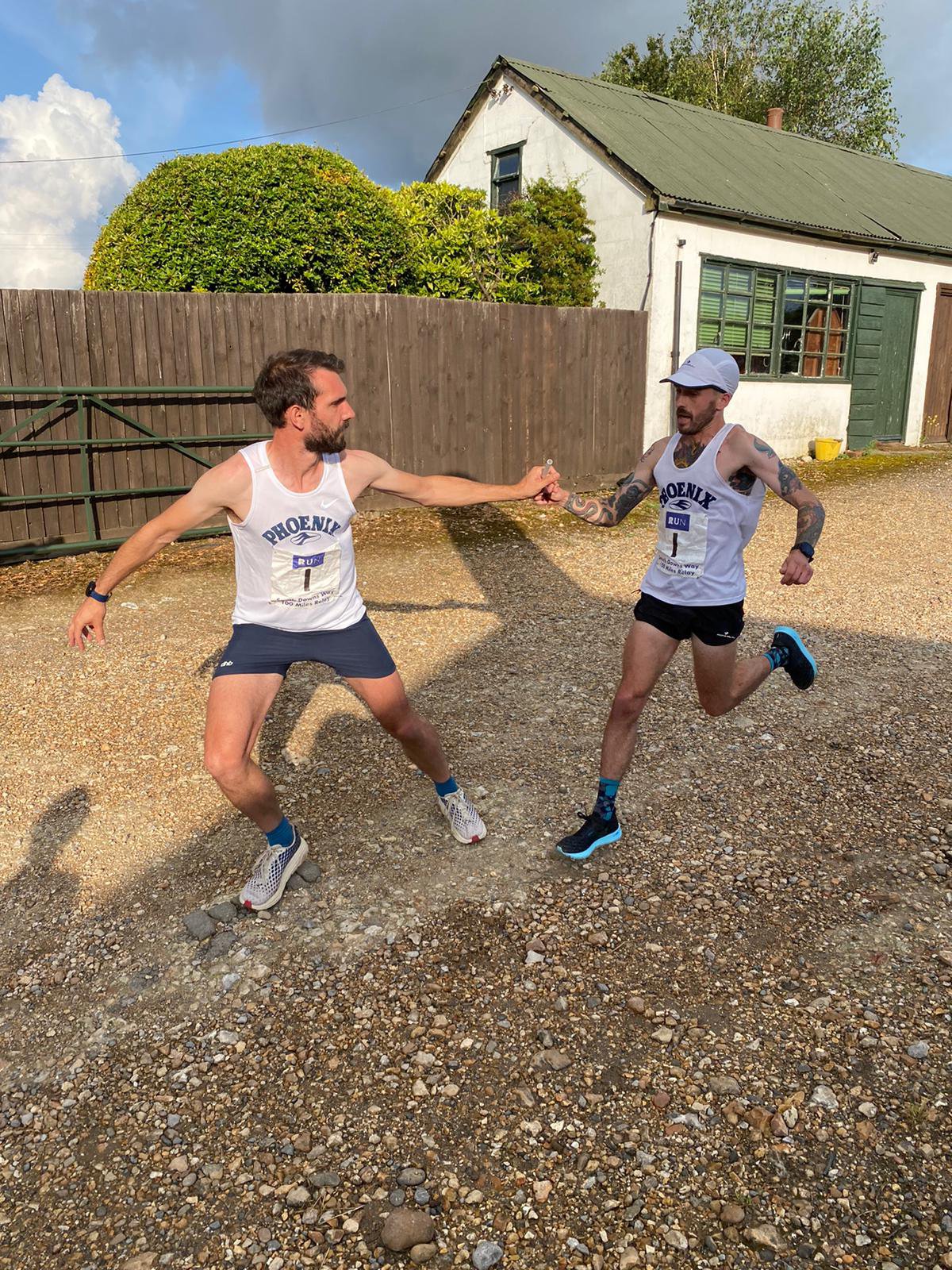 The rest of the race was pleasingly uneventful. Every runner kept ticking off their legs, meeting the expected target times and running hard but keeping a lid on things enough to complete all 3 of their individual obligations. It is a weird race because it's essentially the equivalent of 3x hard 10km efforts but you can't empty the tank too early.
The other big factor is the combination of legs you assign each runner to maximise their strengths and also to ensure the workload is shared as sensibly as possible.
Once Alex emerged from the very tough leg 13 and Jamie handed over to Milan to begin the long, long leg 17 we knew we were within touching distance of our first win in the A race event for 8 years.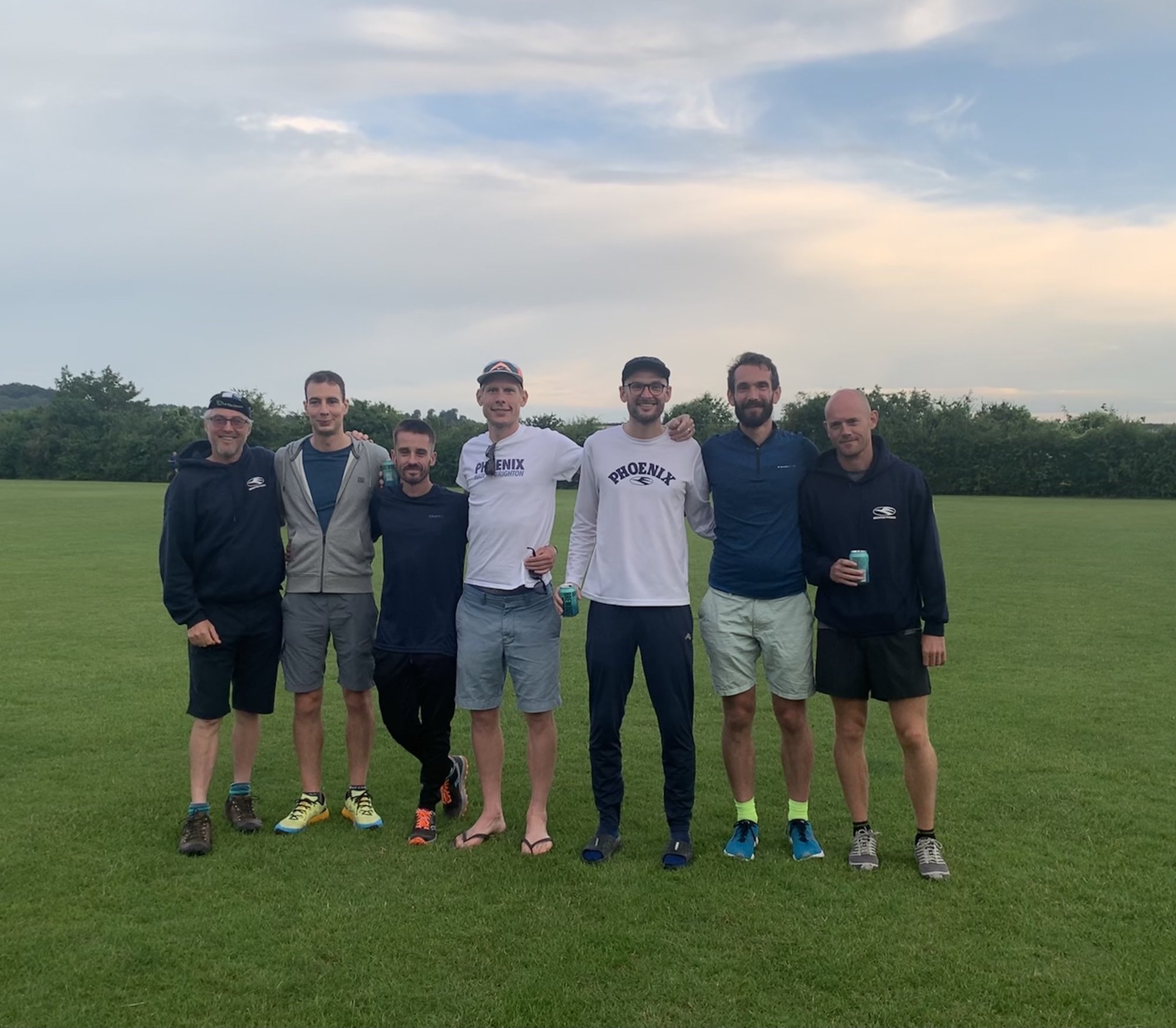 Despite missing Milan (he was too quick) at one of the mid-leg cheering points on 17, we were able to get to the final changeover point and Paul was ready to complete leg 18, in Winchester, to see us home. To our surprise we were not only the quickest team of the day in 10 hours 55 mins, but also the first team to actually arrive at the finish - a good sign we'd had a faultless day. It was great to see Phoenix's Mixed team, who took silver in that category, being the 2nd team to finish!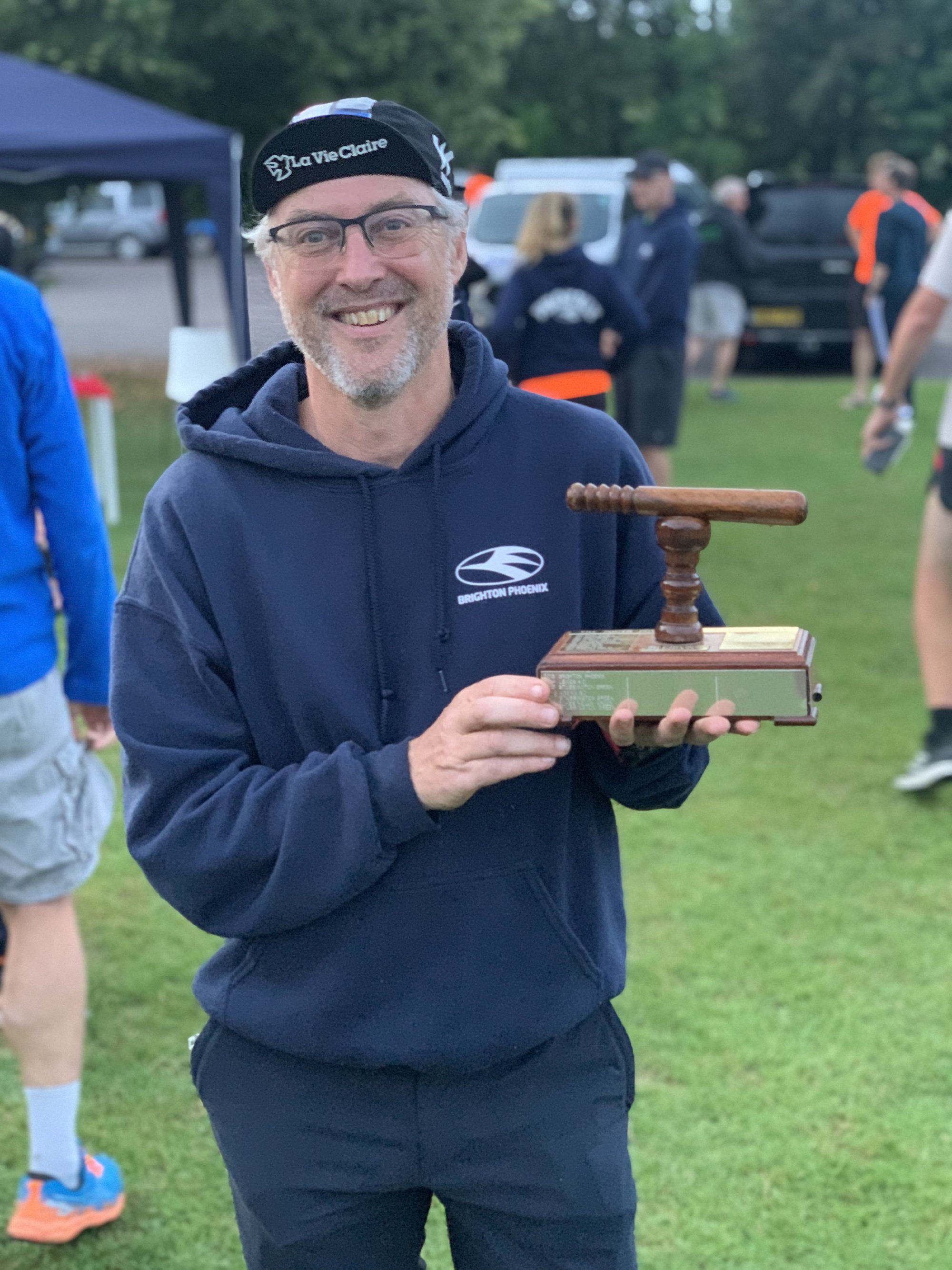 In summary, it was a brutal day of running and every single member of the team - both athletes and drivers, as well as people who held gates, marshalled the leg 5/6 change point, and (Hildi!) provided extra transport - did their job. You are pretty much at maximum heart rate on your first leg, and despite that, the skill is to judge your effort whilst still not keeping too much back, and keeping a clear head to navigate each leg. The signage is pretty good but in the heat of the moment, it is all too easy to stray off course.
As mentioned earlier, the club record of 10:13 is absolutely ridiculous, but a sub 11-hour clocking is something we can be immensely proud of and on another day, with a closer race and switching certain people on certain legs I think we left some time out there.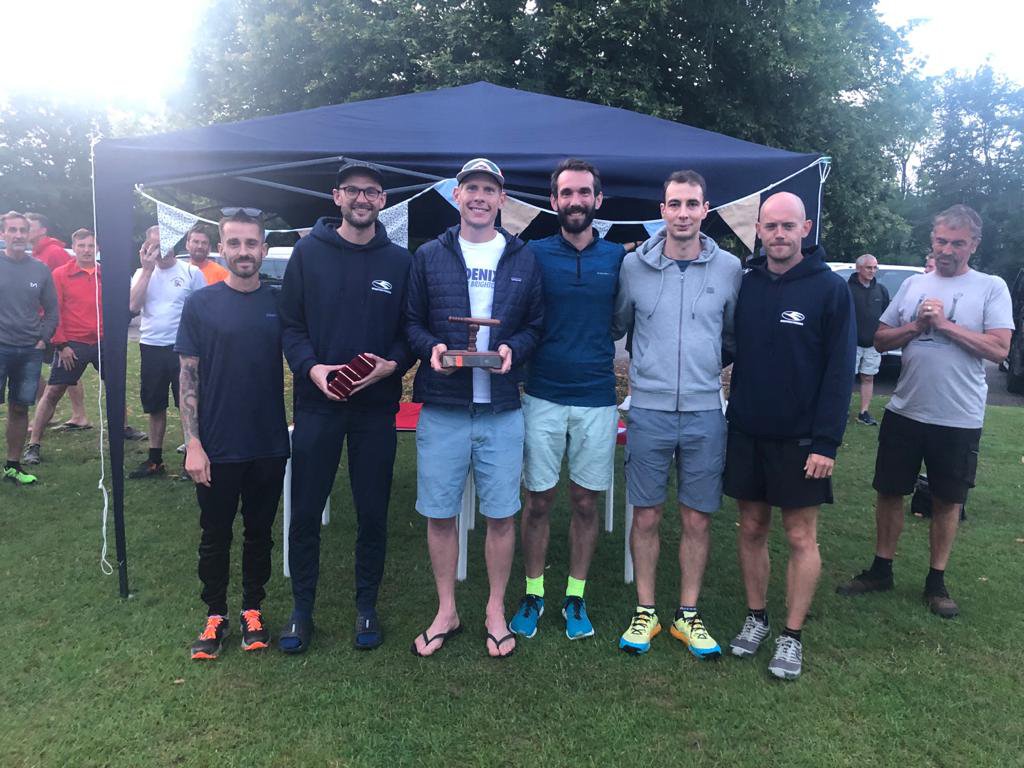 This is only the 3rd time in our club's history we took home the trophy for the A Race, and with Stubbington vowing to be back next year we will need to be fit and firing to make it a successful defence. For now though, it's just a case of being able to climb and descend a staircase again....