Southerns Success
Friday 31st January 2020
Phoenix athletes made the journey North to Hampstead Heath to take part in the iconic Southern England XC Championships on Saturday the 25th of January.
Whilst there were a number of brave performances across the age groups from the likes of Naomi Fonteyn (24th U20 28:09) and Milly Dickinson (47th U17 21:49), our Mens team, competing over close to 14km of gruelling terrain, were the only category where we registered a fully-scoring team.
Simon Heath, who continues to go from strength to strength, lead the way - finishing in 42nd place in a time of 51:10. In a field of over 1,100 and where the standard is extremely high, a top 50 performance is a high-class effort and was the second-quickest display by a Sussex athlete behind Kevin Moore.
Sussex Masters V50 Champion Dave Powell is another athlete who is riding an excellent wave of form and his full-of-confidence run saw him just miss out on a top 200 spot in a cracking time of 56:45.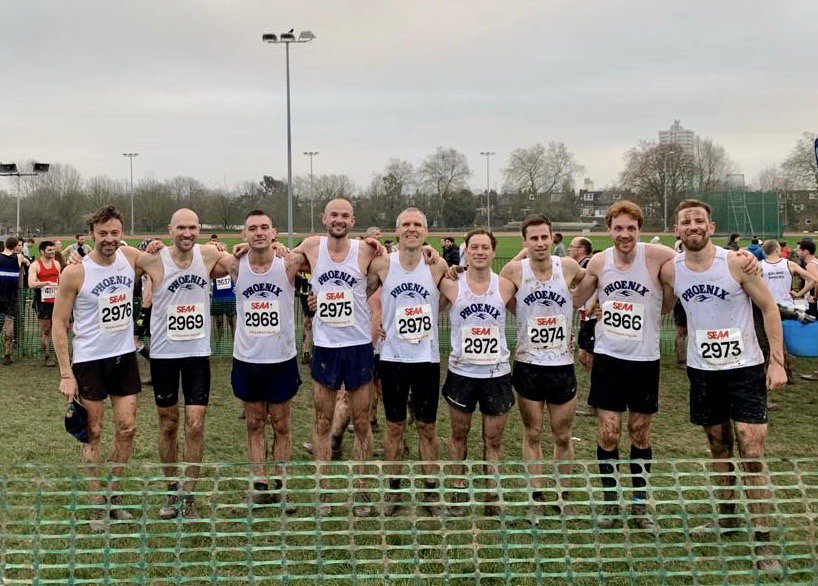 What was extremely encouraging about the depth of the Senior Men in the club is that even without a number of our established stars, our next 4 finishers (Ash Dorrington - in his first race since a 25th place finish in the 2019 Brighton Marathon, Alex Garrod, Dave Carter and Tom Hooper) all finished within 90 seconds and 55 places of Dave taking the team to a very creditable 17th place overall.
This was the highest-ranking position of any of the Sussex teams in the Men's race and only 4 places below the best team result in any of the categories across the whole County.
Alex Cruttenden, Ali Carter, Sean Butchers and Austen Hunter, all part of the ever-growing 'Phoenix Nights' Monday group all ran strongly and with the likes of Ian Leitch, Tim Jukes, Tom Clewley, Milan Watson, Paul Weir, Joe Butler and Nick Dawson all unavailable due to injury and illness there is a serious depth of talent growing in the group/club.
Well done to everyone who powered through the mud, slogged up the hills, held it together on the descents and dug in throughout all the sections in-between on the day, and see you next weekend for the final Sussex XC fixture at Bexhill before the Nationals in Nottingham.