Bewl Tri and Open Water Swim
Monday 12th August 2019
A good turnout for this standard distance triathlon at Bewl Water. This is one of our Club Championship races and the longest distance of the five. It was the first time that Hannah and Andrew had tackled the standard distance.
It was a nice atmosphere having fellow club members all calling out encouragement to each other along the route. Bewl Water is a lovely lake to swim in and at a balmy 21.8 degrees wetsuits were optional, although I think most of us opted to use them. The water was flat and it was a bright morning, perhaps a bit too bright as sighting along the long back straight was hard with the sun rising over the dam wall and into our eyes. This was the first open water swim event Hannah had done and afterwards, she said she loved the swim.
The run-up from the lake to transition is about 0.5K, all uphill and a mix of grass and stones. Several of us opted to use flip-flops or shoes and I took my wet suit off too because its easier to get off before all the water drains out. Unfortunately, the official times for the swim include the run-up to T1.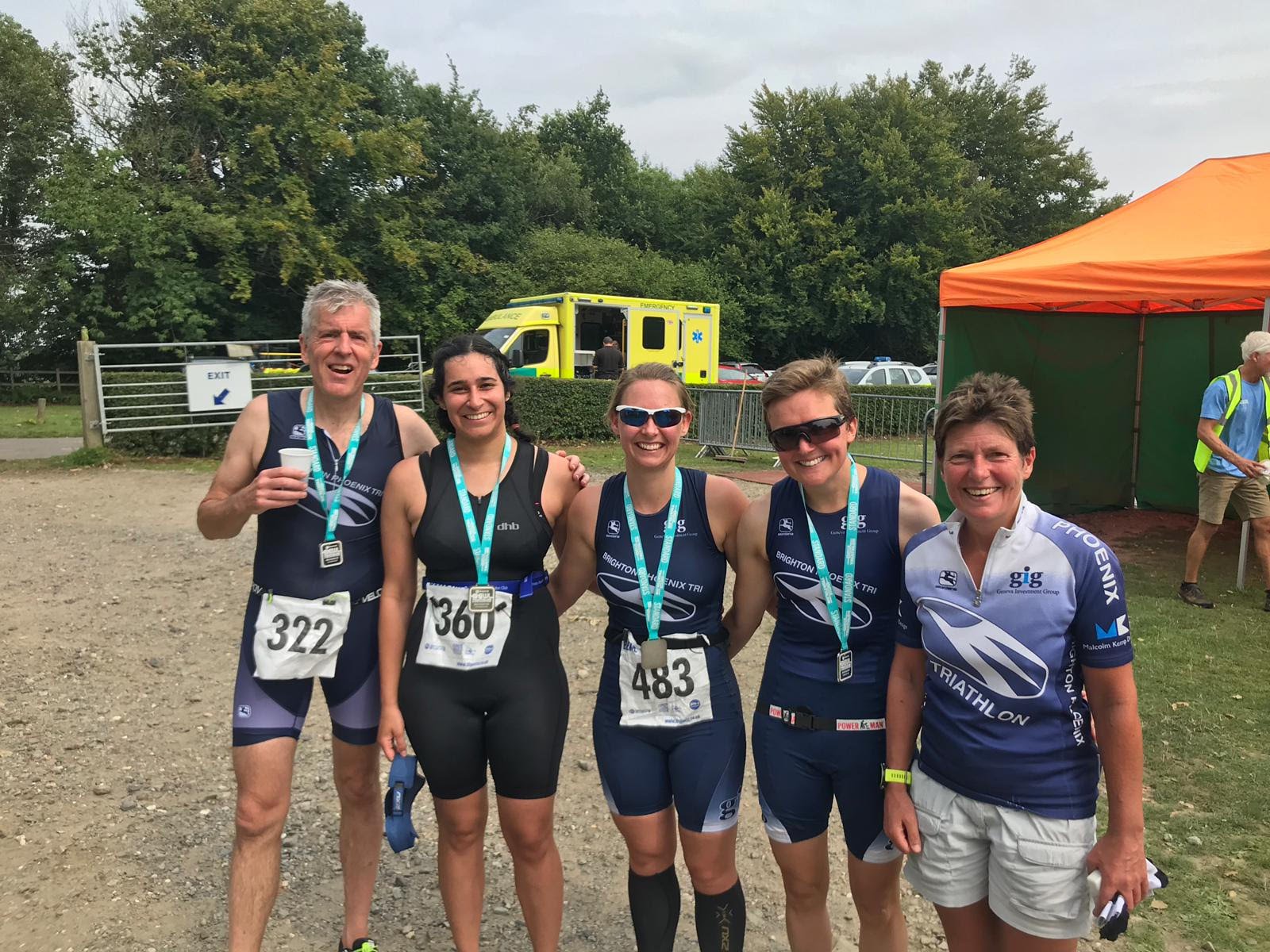 The 2 lap bike course through the Kent and Sussex lanes and villages around Bewl is undulating with a mix of a good road surface and some terrible bits, the terrible bits being mostly in Wadhurst and Ticehurst.
The run is a 4 lap course, mostly back and forth below and above the dam wall but with a sting in the tail of every lap as each time we had to climb the steps and then run up the hill to transition for the turning point. So whilst at first inspection, it looks quite tame a glance at the profile shows it is far from flat. We finished in 25 degrees C as the breeze got up on the water. We even came away with a few age group podium places.
Thanks to Liz Halliday for the report.