British Masters Athletics Championships
Tuesday 12th September 2023
The British Masters Athletics Championships were held last weekend the 2nd and 3rd of September in Derby, and 4 athletes from Phoenix, plus guest member of our Phoenix F3 Track Group, Lewes athlete Jonathan Burrell, competed.
These are the pre-eminent championships for Masters athletes held in Britain and the best from across the country in the various 5-year categories turn up to compete at the highest standard. Despite a frustrating 7-hour car journey on the Friday (partially due to the train strike) all five athletes turned up Saturday morning enthusiastic and ready to race.
In the M60s 1500 metres Jonathan Burrell got us off to a good start with a fabulous silver medal, Barry Blackwell ran a super PB of 4'56.12 and Phil Grabsky was a little way behind, but still managed a seasons outdoor best of 5'05.14.
In a slow, tactical M55 1500m, Steve Atkinson won our first gold medal in 4'40.36, with a 30 second final 200m. In the M60 100m a couple of hours later Phil ran a PB of 14.43. Later that day we had two competitors in the 400metres: Adrian Haines running a 58s and Nigel Herron knocking out a PB of 66.
The next day, Sunday, there was a long wait until the last two races of the day, the 800 metres. First up in the M60s Phil Grabsky ran a strong first 600 but faded at the end for 2'27.03 but Jonathan Burrell stormed his way through the field to take a wonderful gold medal. While he may run for Lewes he is an integral part of our training group and we are all delighted by his success.
Perhaps the biggest race of the weekend was the M55 800s where our two world-record holders (M55 4x800m) Adrian Haines and Steve Atkinson lined up against one another in the 800m. It was a cracking race that saw Adrian drive to victory in 2'08.2 (a Championship record) with Steve not far behind in 2:09.4 for an excellent bronze. Nigel Heron also ran a solid race in 2:39.6.
With 3 golds, a silver and a bronze medal at these British Championships, rumour has it that our Phoenix training group is the most successful in the country - so many thanks to our coach Malcolm Kemp and assistant coach Dan Maskell.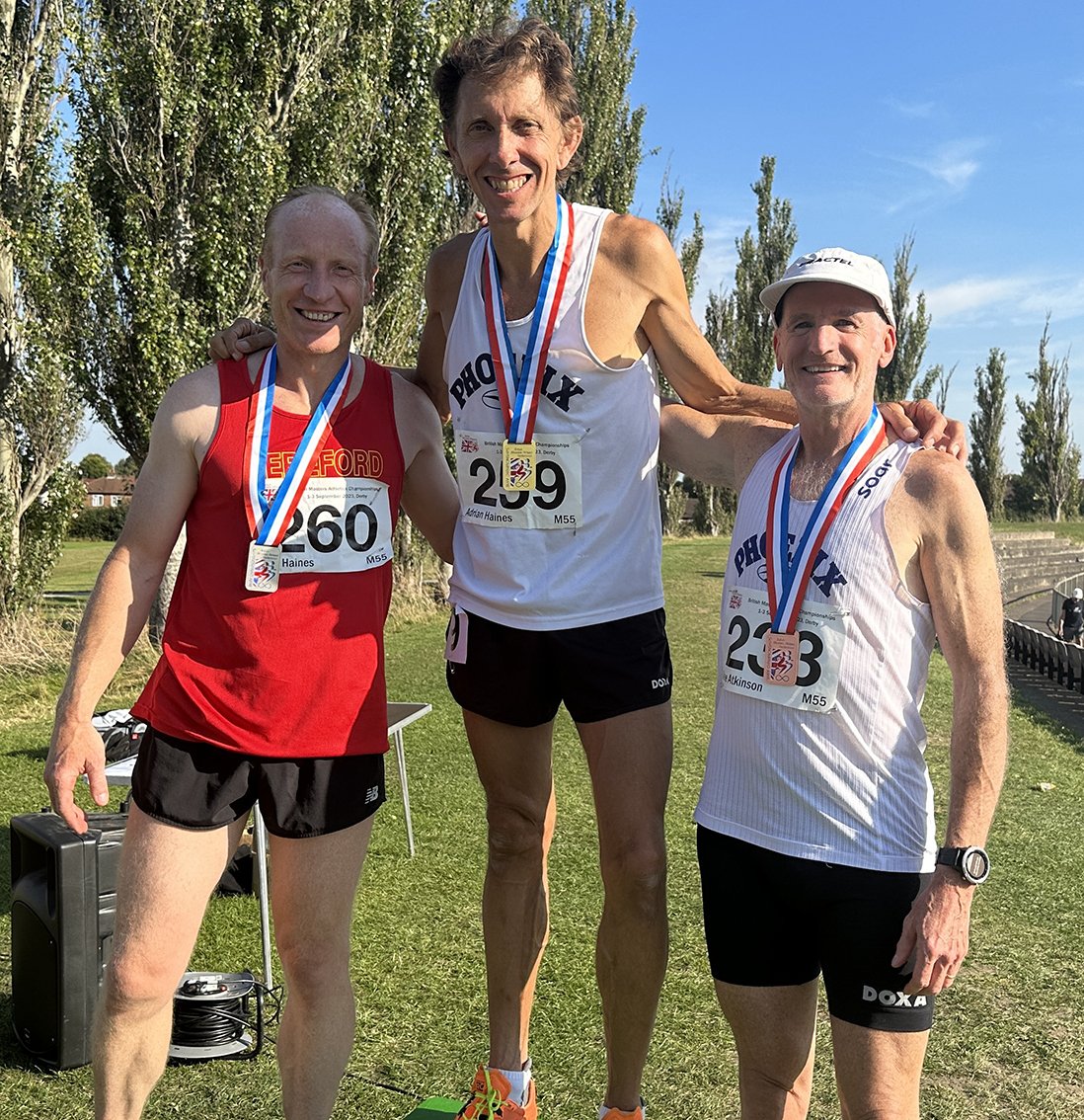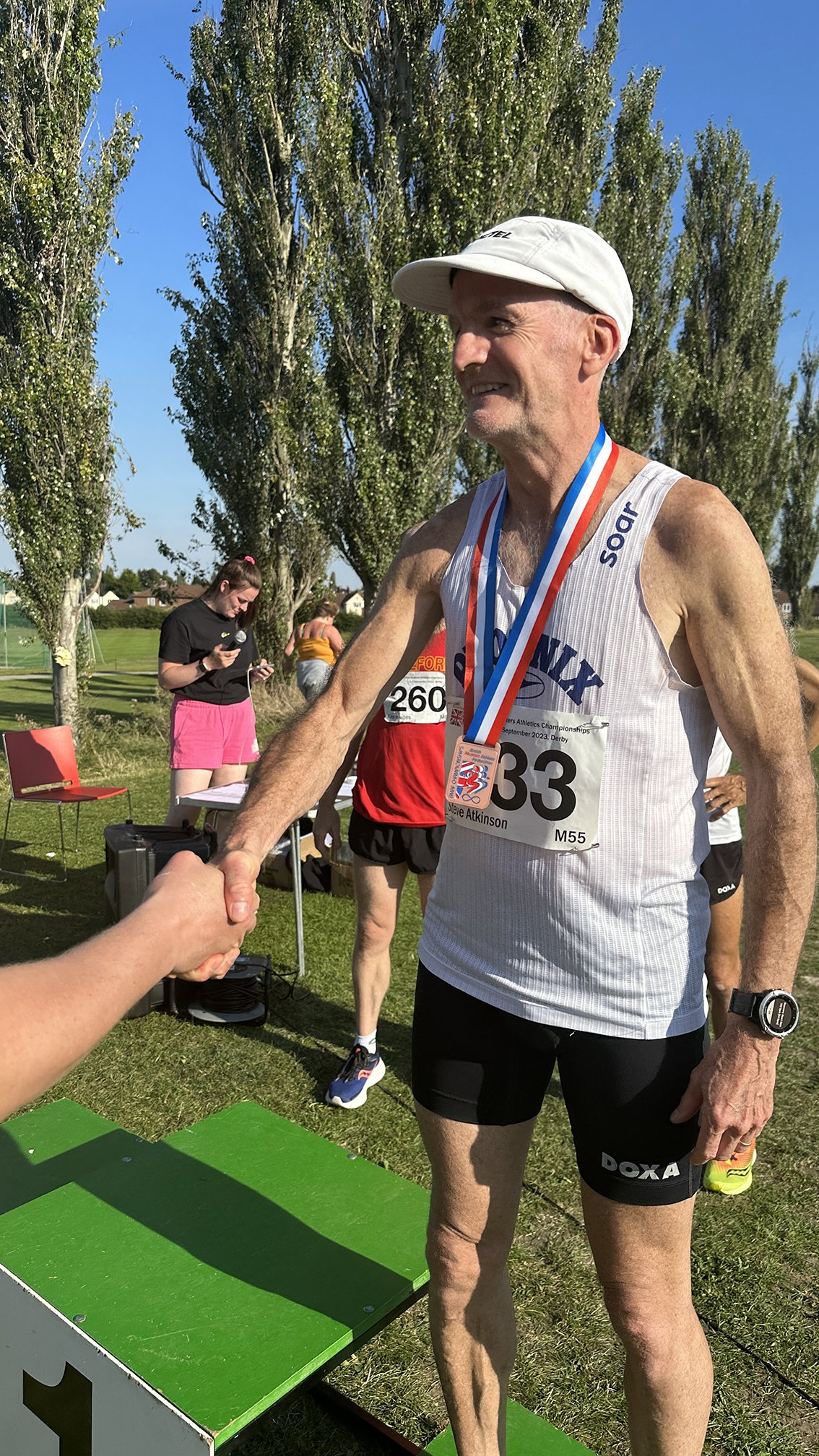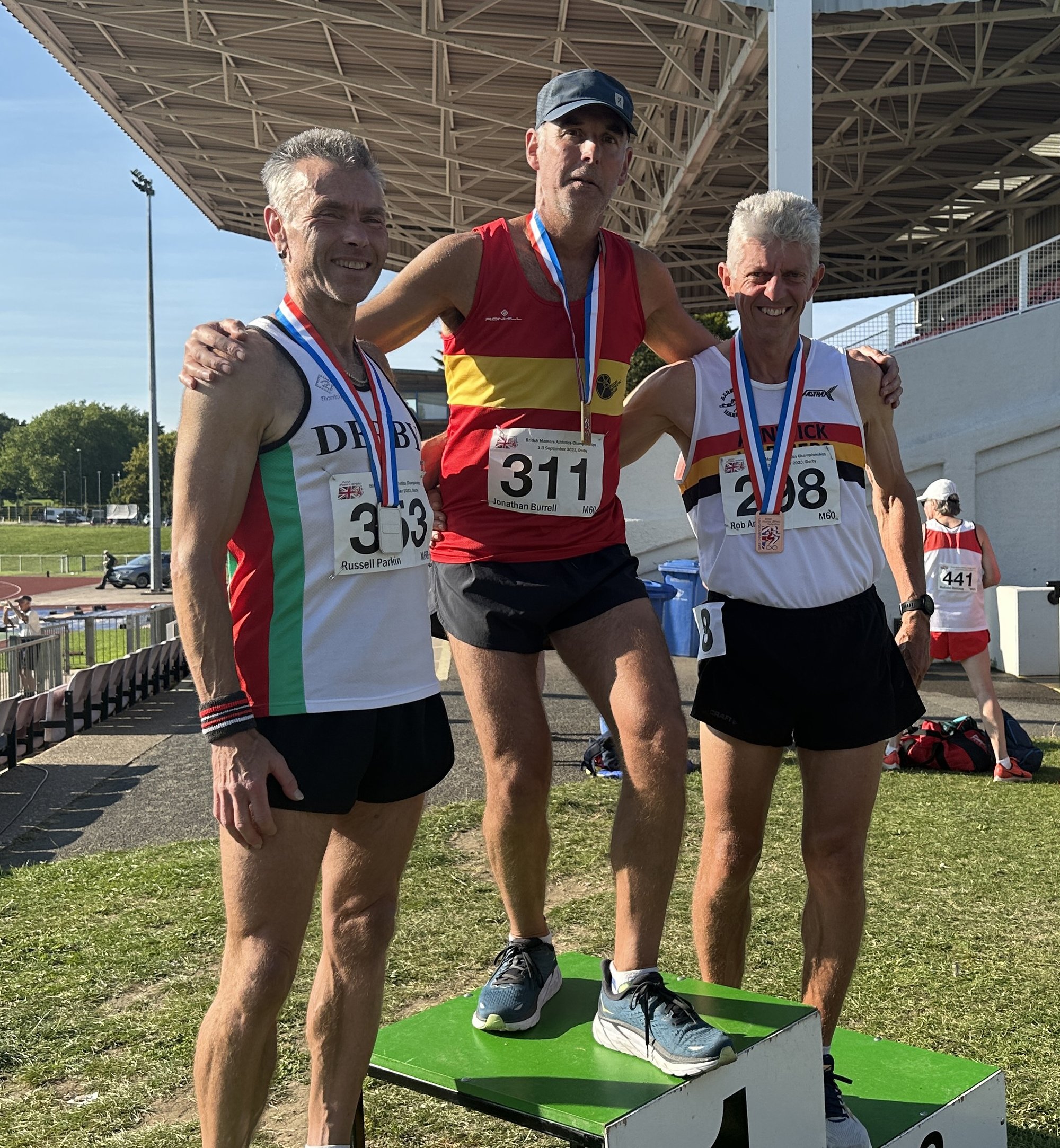 Track and Field
BMAF - British Masters AF Track & Field Championships
Sat 2 Sep 2023
| | | | | |
| --- | --- | --- | --- | --- |
| Name | Category | Distance | Time | Position |
| Phil Grabsky | MV60 | 100 | 14.43 | 6 |
| Steve Atkinson | MV55 | 1500 | 4:40.36 | 1 |
| Phil Grabsky | MV60 | 1500 | 5:05.14 | 6 |
| Barry Blackwell | MV55 | 1500 | 4:56.12 | 8 |
| Nigel Herron | MV55 | 400 | 67.22 | 4 |
| Adrian Haines | MV55 | 400 | 58.00 | 4 |
| Adrian Haines | MV55 | 800 | 2:08.24 | 1 |
| Steve Atkinson | MV55 | 800 | 2:09.42 | 3 |
| Phil Grabsky | MV60 | 800 | 2:27.07 | 3 |
| Nigel Herron | MV55 | 800 | 2:39.66 | 8 |