INSTEAD OF THE BRIGHTON PHOENIX 10K SCHEDULED FOR WEDNESDAY 15 JULY WE PLAN TO HOLD A VIRTUAL 10K.
The tenth Brighton Phoenix 10km has been cancelled due to COVID-19, so we are going virtual for 2020. We would like to invite you to help raise money for our nominated charity, The Clock Tower Sanctuary who help young homeless people in Brighton.
How it will work
You may choose your route but it should be run on a neutral course; an out and back or closed loop.
Please time/record the run yourself. You will need to be able to submit your time using a link to your Garmin or Strava record.
Please be respectful to others and follow Government guidelines on social distancing and exercise.
This event is run at your own risk; keep it fun and safe.
How to enter
Race entry is cheap but we'd like runners to make a donation to the Clock Tower Sanctuary.
Registration is open between 26 June and 18 July.
You need to run and upload your result between 13th and 19th July.
The race is open to all runners (club affiliated or non affiliated) that are 16 years +
Results
Results will be compiled by Open Track and published on the Brighton Phoenix website
Club Teams
Women - first six for each club (including vets)
Men - first six for each club (including vets)
Women Vets - first three for each club
Men Vets - first four for each club
Mixed - first four women and first four men for each club
Celebrating the success of the event
Please send any stories of what this event has meant to you, together with any photos you may have, to Twitter @brightonphoenix and @Phoenix_10K or to the Brighton Phoenix facebook group.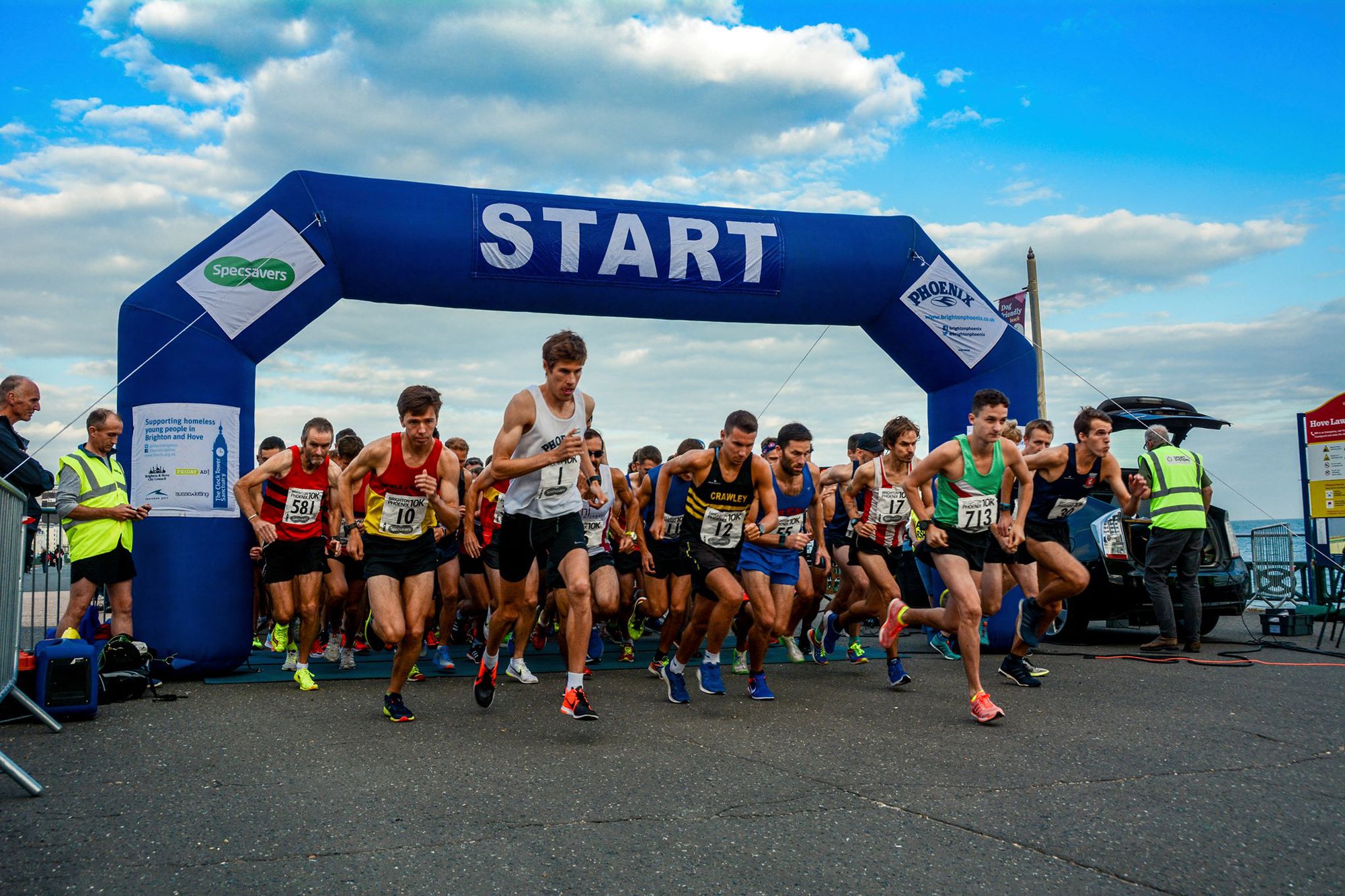 The club hosts the Phoenix 10K on the third week's Wednesday evening in July - next race is 14 July 2021. This is our flagship club race and many of our members either marshal or run it themselves. As an amateur athletics club any funds raised go back into club to help with the development of our young and old athletes alike. Phoenix believe that it is important to be an integral part of the community and as such part of the funds raised go to our partner charity, the Brighton-based The Clock Tower Sanctuary.
The course is an out-and-back, fast course; the race runs west towards Shoreham on the promenade. After Hove Lagoon, the course meets Basin Road South. Following Shoreham Docks the race turns at Carats Café at 5km returning to the finish at Hove Lawns. Fast times are capable on this course as it is flat, straight and one of the quickest 10km races in the area.
Current course records
Results
Prize money 2021
PRIZES
Men and Women
£300 win (Sub 30 mins Men) (Sub 33.30 mins Women)
£180 win (Sub 31 mins Men) (Sub 34.30 mins Women)

£115 win
£65 2nd
£45 3rd

Category Prizes
Men
1st V40
1st V50
1st V60
1st V65
1st V70
Women
1st V35
1st V45
1st V55
1st V65

Teams
Men £20 x 4
Women £20 x 3